LCDC

celebrates successes of 2007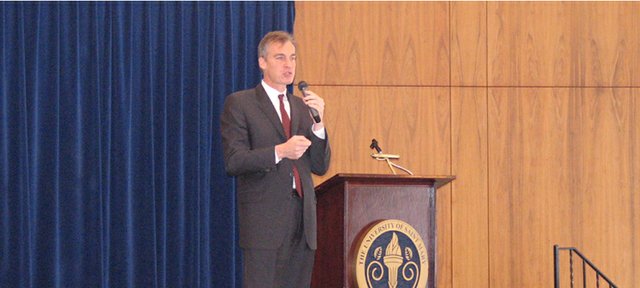 Leavenworth County Development Corp. president Tony Kramer began Friday's annual LCDC luncheon by proclaiming, "I'm proud to say that Leavenworth County is where commerce started in Kansas."
As part of the event, which was held at the University of Saint Mary, Kramer recognized the strides toward fostering economic development that LCDC members and staff have made in the past year.
LCDC is a public-private organization, with the aim of coordinating and facilitating the growth, retention and expansion of primary business in Leavenworth County. It is funded by local municipalities and through private membership fees and partners with area chambers of commerce.
Kramer took time Friday to especially recognize LCDC's full-time staff: executive director Steve Jack; economic development coordinator Christy Isaacs; and administrative assistant Kelly Casey.
A special recognition was also reserved for Harley Russell, chairman of LCDC's infrastructure committee, who, for medical reasons, could not attend.
"Just about any worthwhile project in Leavenworth County has had Harley behind it," Kramer said.
Accepting an award on Russell's behalf was Mid American Bank & Trust president and co-worker Pete Payne.
"I think anybody that knows Harley knows that deep in his heart : he'll always have a special spot for Leavenworth County, Kansas," Payne said.
The keynote speaker was Kansas Lt. Gov. Mark Parkinson, who gave a brief presentation on global and state trends like a widespread aging of the workforce, the re-emergence of Asia in the global marketplace and the impact of climate change and discussed what those mean for Leavenworth County.
His advice was to "focus on labor."
"Communities that are able to figure out how to provide skilled labor : will do well," Parkinson said.
He went on to congratulate Leavenworth County officials on the successes they have had in economic development.
"It is not by accident," he said. "You've got planning, and you've got a great location."
To conclude the meeting, Kramer reminded those present that, if area municipalities worked together, they could build a better Leavenworth County, economically, for everyone.
He compared the ideal attitude of "a team player" to that of Kansas University football team's Kerry Meier, who lost his starting quarterback job but still heavily contributed to the team's unprecedented season this year as a tight end.
"I hope each and every one of us can be that kind of team player in moving Leavenworth County forward," Kramer said.
In LCDC committee reports:
¢ Mike Nixon, chairman of the existing business committee, said committee members made 18 visits to existing businesses in 2007, with discussions ranging from expansion to infrastructure issues.
¢ Marketing vice-chair Andrea Adkins said her committee, among other things, published an ad in the Kansas City Business Journal, made adjustments to LCDC's Web site and hosted the LCDC VIP event in October.
¢ Brian Habjan, with the membership committee, mentioned his committee's efforts organizing the LCDC golf tournament, casino night and its help with the VIP event.
¢ On behalf of Harley Russell, Chris Donnelly said the infrastructure committee continued working closely with regional agencies, like the Mid-America Regional Council, to identify state and federal funding opportunities for infrastructure.
Donnelly also reported that the committee will continue to work with Platte County to make improvements to Missouri Highway 92 east of Leavenworth and is supportive of a planned bicycle trail project from the Leavenworth County Port Authority as well as the concept of a regional airport.
As part of the nominating committee, Donnelly motioned to re-elect board members Marisa Gray, Dan Gutshall, Greg Madsen, Bill Petrie, David Schroeder and Dean Weddum to three-year terms.
The motion was seconded and approved by acclamation.