Sluggish Lions sneak past Bravettes
LHS

girls take third at Metro Prep Tip-off Classic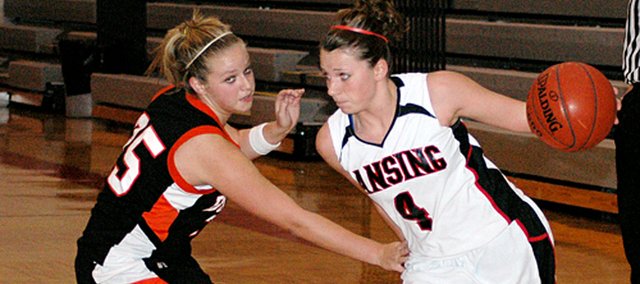 Bonner Springs — Classes were canceled at Lansing High for the second straight day Wednesday because of inclement weather, but the LHS girls basketball team still had a game.
LHS took on rival Bonner Springs in the third-place game of the Metro Prep Tip-off Classic on Wednesday afternoon at the Bonner Springs YMCA, and judging by their performance it was obvious most of the Lions seized the opportunity to sleep in.
Photo Gallery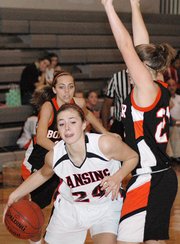 Lansing girls 37, Bonner Springs 35
They were sluggish from start to finish, but they were focused just enough to eek out a 37-35 victory over a Bonner squad they dominated less than two weeks earlier.
"That's the worst thing about playing on a snow day or an off day : the kids are out of their routine," LHS coach Keith Andrews said. "They were sluggish. Bonner was in school, so that was a little bonus for them, but you've got to get up and get moving and get your mind going. It was a typical two-day off, snow day event where we came out sluggish."
The Lions struggled to knock down open shots all game. They missed layups and turned the ball over. Their saving grace was their defense and rebounding. That allowed them to hang around early and hold on late.
Anchored by five early points from Kelsey Stanbrough, Bonner led 11-9 after the first quarter. Alexis Ellis and Morgan Chiles asserted themselves in the post during the second quarter and combined for all nine of Lansing's points. The defense also was stellar as it limited BSHS to just one field goal and three free throws in the quarter. That was good enough to give LHS an 18-16 halftime edge.
Felisha Leipard swished three free throws early in the third quarter and put the Bravettes ahead, 19-18. Meanwhile, the Lions went nearly three minutes without scoring. A three-pointer by Katie Nietzke ended the drought and put LHS back on top. A Leipard leaner in the lane tied the game again with 3:10 left in the quarter. Lynsey Ostman's 15-footer put Bonner back on top, but a layup and two free throws by Brittney Lang in the final 35 seconds gave Lansing a 25-23 lead entering the fourth quarter.
Chiles swished two free throws early in the final quarter, Amy Briggs added another and Lang drained a three-pointer. That gave the Lions an eight-point cushion with 5:13 to go. At that point it seemed they would put the game away.
Didn't happen. Lansing went flat from the field as it missed layups and open shots. At the same time, Bonner inched back into the game as Leipard scored twice and Stanbrough poured in seven points on a put-back, a three-pointer and a jumper. Her final basket tied the game at 34-34.
For the next two minutes the game hung in the balance, but a put-back by Christine Cordes - her only bucket of the game - put the Lions ahead for good with 27 seconds left. Lang later iced the game with a free throw.
Stanbrough led the Bravettes with 15 points and Leipard had 14. Lang led the Lions with 12 points, Chiles had eight, Ellis scored seven, Nietzke and Briggs had four apiece and Cordes added two.
After the game, Andrews lamented his team's lack of focus, but he said he was proud of them for gutting out a close game and finding a way to win.
"That mental part of the game has got to be there the whole time from the whole team," he said. "The other thing is it's better to have a close game like that because we're playing Tongie (on Thursday)."
Lansing (3-1 overall, 1-0 Kaw Valley League) returns to league action at 6 p.m. today, Dec. 13, when it takes on four-time defending league champion Tonganoxie. The Chieftains are 3-1 and dropped their league opener to Basehor-Linwood, but Andrews said it would take the Lions' best effort of the season to pull off the win.
"Tongie's still Tongie," he said. "Those kids remember going undefeated in the league the last couple years. They understand; they haven't forgotten how to win, so they're going to be tough. We've got to go down there and go get them. We've got to take advantage of their situation, get every rebound, every free throw, every loose ball : we've got to get those things, and we haven't done that for a full game this year. I guess the silver lining is that we've got the potential to do that."
LAWRENCE FREE STATE 62, LANSING BOYS 45
Photo Gallery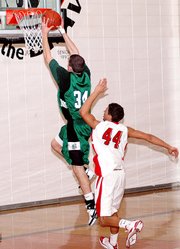 Free State 62, Lansing boys 45
Cody Rush scored a team-high 17 points, but it wasn't enough as the Lansing High boys fell to Lawrence Free State, 62-45, in the fifth-place game of the Metro Prep Tip-off Classic at Bonner Springs High School.
Sloppy was the name of the game for both teams, but Lansing struggled with the ball the most. From missed layups to passes that lacked zip, the Lions didn't take care of the ball. It cost them the game.
Still, they hung around early.
Free State held a 15-11 lead late in the first quarter, but Clayton Hall buried a 25-foot three-pointer with a hand in his face at the buzzer that pulled LHS within a point.
Miscues caught up with the Lions in the second quarter as the Firebirds began turning turnovers into points. After scoring seven points in the opening quarter, Rush added seven more in the second. Weston Wiebe topped that performance with eight in each quarter for the Firebirds, and teammate Kris Wilson hadded 11 before the break.
Free State's 29-23 halftime lead quickly surged to double-digits in the third quarter. Lansing never threatened the rest of the way.
Wiebe led FSHS with a game-high 25 points and Wilson added 17. Hall and Bobby Hauver had nine apiece for LHS, Curtis Beall scored six, and Kevin Johnson and Stephen Didde each added two.
Lansing (2-2 overall, 1-0 Kaw Valley League) next plays at 7:30 p.m. today, Dec. 13, at Tonganoxie.