Storms beat winter to punch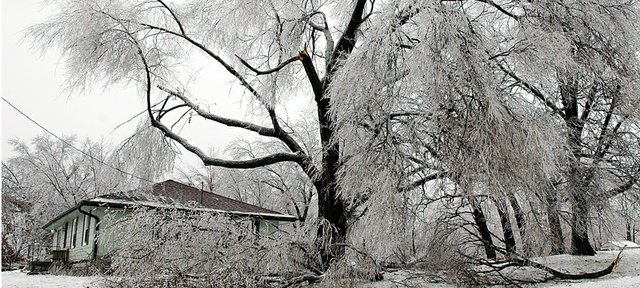 Winter doesn't arrive officially until next week, but you couldn't tell judging from the below-freezing temperatures, snow and ice that have hit Lansing the past few days.
City crews worked throughout the night Monday, clearing streets as rain continuously fell and temperatures dropped. Lansing schools have been closed since Monday because of forecasts that included icy conditions.
However, Mark O'Malley, a meteorologist with the National Weather Service office in Kansas City and Pleasant Hill, Mo., said, "It's not as bad as it could be."
Throughout the day Tuesday, O'Malley said temperatures stayed close to 32 degrees, which made it easier for street crews to clear streets and spread salt and sand before roadways froze.
City Administrator Mike Smith said the temperature was high enough that Lansing crews only used salt and sand rather than a special mixture that melts ice faster. While sidewalks and driveways may still be coated in ice or leftover snow from last week's storm, Smith said most streets had been treated and cleared.
"The crew is really good about getting on it right away," he said.
For now, the major concern in Leavenworth County continues to be power outages. About 6,000 Westar Energy customers in the county experienced outages from the storm that began Monday. As of Wednesday morning, just under 3,000 county residents still were without power.
Most outages were caused by ice clinging to tree limbs and weighing down branches hanging over nearby powerlines.
O'Malley said residents should be cautious around downed powerlines, avoid driving over them and call their energy company immediately.
He warned those without power to be careful with methods to stay warm. He advised to always run a generator outside and in well-ventilated areas. He said gas grills and ovens should never be used in a house for heat because of the threat of carbon monoxide poisoning.
Smith said the fire department has been working, cutting and clearing fallen limbs.
For now, the city has offered the Lansing Community Center in the basement of City Hall, 800 First Terrace, as a place for Lansing residents without power to stay.
Residents who still have power, Smith said, should stay home and "sit tight" for now and only travel if absolutely necessary. Should a worse snow storm hit in the future, Smith said residents could help the city out by making sure vehicles were moved off streets so crews could get them cleared faster and easier.
But that shouldn't be a concern just yet.
O'Malley said it didn't look like any bad storms would be hitting the area in the coming weeks. While there is a slight chance of flurries on Saturday, he said it would be nothing like the last few days. The most Leavenworth County residents should expect is colder temperatures, typical of this time of year.
"Winter is here," he said, ignoring the season's official start on Dec. 22. " And in the foreseeable future, winter is here to stay."
Info box
Westar has multiple crews working in the Leavenworth County area on a continuous basis. The company, which provides electricity to much of the county, is recommending that residents who do not have power first check the meter at their homes. If the meter is damaged, it is the responsibility of the property owner to get the meter fixed. In such a case, the homeowner will need to contact a electrical contractor to get the meter fixed. The meter must be fixed before power can be restored to a home. Westar can be reached at 1 (800) 383-1183 to report outages and request additional information.
A shelter has been set up at the Riverfront Community Center, 123 S. Esplanade St., for all Leavenworth County residents who need a place to stay. Shower and restroom facilities are available at the Community Center. The American Red Cross is providing hot meals and cots for anyone in need.
The Leavenworth County Transfer Station, east of Kansas Highway 7 on Gillman Road in Lansing, will accept, free of charge, tree limbs and brush debris from Leavenworth County residents through Saturday, Dec. 15. Hours of operation are 7:30 a.m. to 4:30 p.m. For more information, please call 727-2858.