Veterans talk, students listen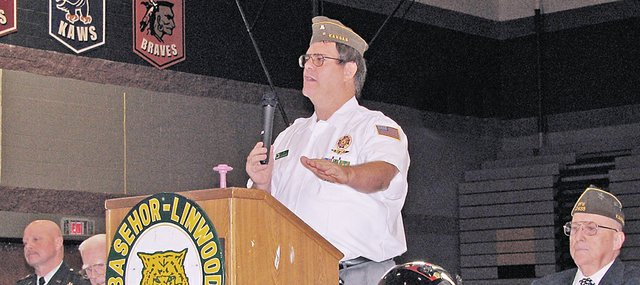 The flags waved at half-staff Friday as members of the Basehor Veterans of Foreign Wars dressed in their military uniforms filed into Basehor-Linwood High School.
"Who knows why your flag is at half-mast today?" VFW Commander Fred Box asked a large group of students that had gathered in the gymnasium. "It was 66 years ago today when the Japanese bombed Pearl Harbor."
Dec. 7, 1941, is a day that many veterans will never forget. These local veterans took the time to share firsthand accounts of the attack on Pearl Harbor and the rest of World War II, along with all the wars from Korea to Desert Storm through their annual "Voices of History" presentation.
There are very few World War I veterans remaining in the world, Box said.
"They said it was the war to end all wars," he said about WWI.
The Great Depression swept the country after WWI because everybody had been drafted, Box said, but they got smart when it came time for the next war, WWII, and allowed the farmers to stay behind and keep the economy afloat.
However, one Basehor farmer's work on the farm was done, and immediately after graduating from Basehor High School in 1941, Wilbur Grisham joined the Army.
"Knowing I would be drafted, I decided to enlist," he said.
During his stint in the medical corps, he spent much of his time in the Pacific. Dressed in his khaki summer dress uniform, Grisham told the students how he heard the news of Pearl Harbor over a loudspeaker and was put on overseas assignment the next day. He said the destination was supposed to be a secret, but the rumors were that they were heading to the Philippines. A mixup, which sent a different group of company aid men to the Japanese island of Iwo Jima, may have saved his life.
"Do you know about Iwo Jima?" Grisham asked. "I was supposed to make that. Thank goodness I didn't. There were 75 percent casualties the first 15 minutes on the island, so they didn't take care of any patients at all."
Harry Lewis, another WWII veteran, said he had the good job of disarming mines during the war.
"I got 200 to 300 mines disarmed," he said. "Luckily, I got through it."
Lewis was awarded the Bronze Star for his efforts.
After re-enlisting, he headed off to Germany where he recalled the Berlin Airlift, which was the start of the Cold War.
Both Grishman and Lewis said traveling the world was adventurous, but nothing was like returning home.
"Coming back to the United States, the prettiest sight you'll ever see is the Golden Gate Bridge coming in," Grisham said. "It's beautiful after four years out there. I guarantee."
Box said the world loses more than 1,200 WWII veterans each day, but the Basehor VFW is lucky enough to have at least two willing to share their stories.
"They were serving then and now," he said.
Forgotten war
Two Korean War veterans Don Wiley and Hank Nahrebeski - were present, but declined to speak and just politely nodded as Box recognized them.
"It's been known as the forgotten war," Box said about the Korean War.
Piper native and Vietnam War veteran Al McComas said he joined the Kansas Army National Guard in 1966 and was given the opportunity to serve two years of active duty in 1968.
"When I came back I was disoriented, unhappy, dissatisfied," he said. "I didn't know what I wanted to do, so I quit."
However, after a few years, McComas said he pulled his life together and decided that it was time to re-enlist. He served in Desert Storm and eventually retired in 1996 after 27 and a half years.
"I had a good tour," he said. "I enjoyed what I was doing. I felt there was a need to protect what we have here in Basehor, the Midwest and all across the country."
Navy pilot
Desert Storm is also in the memory of 28-year Navy veteran Dan Stueckemann, who started out his naval career in submarines.
"I've been in subs when the water temperature surrounding the hull was 32, sometimes 31, degrees," he said. "You'd be bobbing and weaving down the hallway, but after a while it became second nature."
Sometime after, Stueckemann began flying an S3 Viking jet aircraft. Holding up a small purple object that resembled a barbell, he explained that the miniature weight, called a hold back fitting, was all that held the huge jet on the flight deck of the aircraft carrier before it broke, as it was designed to do, catapulting the jet into the sky.
"It's exciting," he said. "It was an amazing time and an exciting thing to do. Seven lateral G's (which causes a person to feel seven times heavier than normal) are placed on your body. It's dangerous. Some people don't come back, but that's part of the job; part of the privilege."
The black metal flight deck would often reach 130 degrees in the hot sun, and Stueckemann said he believes it when people said the aircraft carrier is known as the most dangerous five and a half acres of U.S. territory. He went on to explain that he's seen men thrown overboard and sucked into jet engines.
"Kids not much older than you are out there making sure they get those aircraft out safe," he told the crowd.
Dangerous yet exciting aside, it is definitely scary sometimes, he said, as he recalled having last meals with comrades before hearing they had been killed and diverting a plane with a half a wing to Saudi Arabia.
"I do want to say war is hell," he said. "There's been a lot of blood spilled for this country. Freedom isn't free. We've all served and we've all been proud to serve."
Active duty soldiers
The VFW has few members on active duty and Bruce Adams, who has served in the Army for more than 24 years, is one of them. He said his time in the military has been exciting, traveling around the world from Southwest Asia to Greece. He remembers being in Germany when the Berlin Wall came crumbling down. One of his most recent experiences was being in the courtroom when Saddam Hussein was read the charges against him.
"It was a good feeling to see a dictator brought to justice," Adams said.
He also spoke about the progress that is being made in Iraq and the pride he feels knowing that his son and daughter have also chosen to serve.
"Being in the military has given me the opportunity to be a part of history," he said.
No more milking cows
Wrapping up the presentation, Box stood up and went back to the Vietnam War to share his experiences. While working for 35 cents an hour on a farm in the early 1960s was a pretty fair deal, as a new Basehor High School graduate, Box said he was ready to join the military.
"I didn't want to put up anymore hay and I didn't want to milk anymore cows," he said.
Taking advantage of all the training the Army had to offer, Box joined the Green Berets and learned several different types of martial arts.
"If I was going to be a solider, I was going to be a good solider," he said.
His attitude toward the training seemed to pay off as he told a tale of trudging through the double canopy jungles of the Mekong Delta - the only American accompanied by 25 Vietnamese Rangers and an interpreter. They spotted what appeared to be a grave along the way, but Box said the North Vietnamese often buried weapons and disguised themselves as graves, knowing Americans would not disturb them out of respect for the dead. While their informant said the enemy was not in the area, Box said, when they went to investigate the grave, they walked right into a North Vietnamese camp. Soon he found himself alone with the interpreter - both wounded.
"All hell broke loose," he said. "All 25 Rangers were dead. I was wounded, shooting with one hand and using the other to radio."
Box said he and the interpreter made it out alive, thanks to the help of a Navy Seawolf helicopter that responded to the radio calls.
He came home from this "unpopular" war as one of the most decorated soldiers in the area with five Bronze Stars and three Purple Hearts, but the horrors of war did not stop there.
"We came back to people calling us baby killers and burning and spitting on the American flag," he said. "Nobody killed any babies - not on purpose. I was laughed at and spit on until people found out what really happened."
Box said he also developed a drinking problem, using alcohol to mask the complications caused by post-traumatic stress disorder, until one day he said he looked in the mirror and decided to turn to God for help.
"There is a cure for post-traumatic stress," he said, crediting his faith. "I never had another drink. I never had another nightmare."
The audience erupted with applause.
In closing, Box left the young students with a little advice.
"We will never forget that we are American," he said. "We will always have faith in God and the United States of America. Wherever you are tonight : get down on your knees and thank God for keeping America free."