Wrestlers 4th at Eudora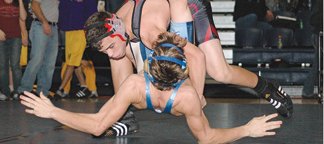 Eudora — A fourth-place finish out of 24 teams was cause for celebration by the Lansing High wrestling team on Saturday at the Eudora Tournament of Champions.
That finish takes on greater significance when put in perspective, however, considering senior 119-pounder Dennis Wood, a state runner-up last year, and undefeated 171-pound freshman Nathan Wessel both missed the tournament with injuries.
Photo Gallery
LHS wrestlers fourth at Eudora
Suddenly that fourth-place finish looks even better. With the points both Wood and Wessel likely would have accumulated, the Lions might have been celebrating a tournament championship - or at least a top-two finish.
Defending state champion St. Thomas Aquinas won the team title with 235 points, Prairie View was second with 211, Baldwin was third with 209 and LHS had 196.5.
"We definitely could have been in the top two very easily when you consider the points we could've earned, and that would've taken points away from other teams most likely," LHS coach Ron Averill said. "And it was pretty impressive how our guys came up and wrestled throughout the championship bracket. Going into that, we were in 10th place, so to move our way up to fourth place is pretty darn impressive. That's very encouraging from the team standpoint of good things to come."
The Eudora format begins with pool competition where wrestlers have anywhere from two to four matches against other wrestlers. From there, the top eight performers move into bracket competition and vie for the championship.
Seven Lions advanced to the bracket, and all finished in the top six in their weight classes. Senior 152-pounder Nick Flynn and junior 160-pounder Grant Hinckley both placed first in their weight classes; freshman 145-pounder Tyler Baughman was third; junior 135-pounder Wes Appleget and junior 215-pounder Tyler Strouhal both placed fourth; freshman 125-pounder Spencer Blew was fifth; and freshman 103-pounder Brett Brown finished sixth.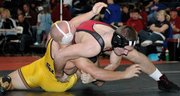 "All those guys I felt wrestled better progressively throughout the tournament, and that was a real encouragement," Averill said, noting that they did that against top-notch competition. "We had the opportunity to get in there and bang heads with some of those guys, and we pulled out some good wins and, in some cases, we pulled out good losses."
Flynn, a state runner-up last season at 145 pounds, was dominant throughout the tournament. He was largely untested while winning all seven of his matches. Hinckley, a fourth-place finisher last season at 160, earned a pin and two major decisions in pool play and then cruised to the finals. He was slated to face Ryan Carlson of Hiawatha in the finals, but Hiawatha left the tournament early as inclement weather threatened the area. Hinckley won the final match by forfeit, and he wasn't too happy about it.
"Boy, he was really looking forward to that (finals), because he wanted to get out there and prove to everybody where he's at and where he's going this year," Averill said of Hinckley. "It (the forfeit win) was kind of bittersweet. He'd done such a good job dominating his weight all the way through, so he wanted to leave no doubt."
Baughman posted a 5-1 record at the tournament and won both of his pool matches by pin. Appleget compiled a 5-3 record and had two pins in pool action. Brown posted a 2-3 mark, and Blew went 5-2 with a nail-biting 10-8 loss to Aaron Patton of Wellsville.
"That was probably the most impressive loss of the meet," Averill said of Blew's match with Patton. "He was either a state champ or runner-up last year, so that just speaks volumes of (Blew's) ability."
Strouhal may have been the most surprising medalist. He worked his way through the back side of the bracket to reach the consolation finals and posted a 3-3 record.
"Tyler's one of those guys who's been coming along, and every time you see him out there he improves a little bit more," Averill said. "We're just anxious to see where he's headed. He's put in his time and worked a lot in the offseason, so hopefully it's going to come together. The way he worked his way through the back side with back-to-back pins to get to the consolation finals was very impressive."
Lansing will face its final test before winter break when it competes at 9 a.m. Saturday at the Emporia Winter Classic. It's a tournament that will give the Lions exposure to teams from beyond the Kansas City area that they might face at state.
Averill said the trip to Emporia will provide his team with competition that will prepare it for the postseason, and he said he's excited to see his wrestlers build on a strong start to the season.
"I've been telling them we're off to a great start," he said, "but what we want to be working toward is a great finish."