Offense erupts as
LHS

boys roll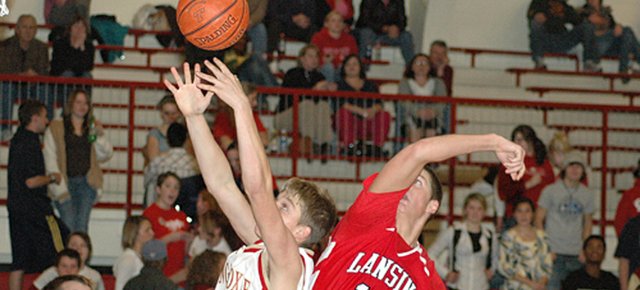 Tonganoxie — At this time last year, the Lansing High boys basketball team was five games into a season-opening six-game losing streak.
Photo Gallery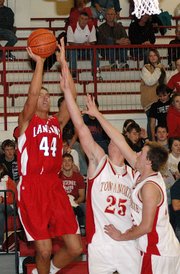 Lansing boys 60, Tonganoxie 37
My how times have changed.
The Lions (3-2) stampeded the Tonganoxie Chieftains on Thursday night, 60-37, and remained in first place in the Kaw Valley League at 2-0.
"That means a lot to us," senior Stephen Didde said. "It's a huge turnaround that you can see from last year. It's already a ton better, so we're happy."
Despite the lopsided score, both teams actually shot better than 50 percent from the field. LHS hit 53.8 percent of its field goal attempts while THS made 51.6 percent of its tries. The differences were turnovers and free throws. The Lions turned the ball over eight times and made 16 of 25 free throws. Meanwhile, the Chieftains coughed up the ball 21 times and went four-for-11 from the stripe.
Tonganoxie actually was the hotter team in the first quarter. It made its first six shots and built an early lead, but Lansing forced five turnovers and rallied for a 13-12 advantage.
Cody Rush and Bobby Hauver knocked down free throws and Curtis Beall swished a three-pointer that extended the lead in the second quarter, but Tonganoxie rallied to within 18-17 on a jumper by Keith Wentz-Hall and a three-pointer by Logan Forbis. At that point the Lions picked up their defensive intensity. They forced four turnovers down the stretch, and that sparked the offense. A Didde jumper and a steal and layup by Hauver fueled an 11-0 LHS run to close the first half and the Lions took a 29-17 lead into the break.
"They made some shots that I knew they wouldn't continue making the rest of the way," LHS coach Rod Briggs said. "And once we started really knocking down the defense a little bit, that's when we got a little separation in the first half."
The Lansing offense was simmering in the first half, but in the third quarter it came to a boil. The Lions opened the quarter on a 15-3 run that included three buckets by Didde. During one span they forced five straight turnovers and turned four of them into points. Later in the quarter, Kevin Johnson stole the ball, dribbled to the other end and pulled up for a jumper. Cody Rush capped the quarter with two free throws that gave the Lions a 51-24 advantage.
"We got in the locker room (at halftime) and we said what we were going to do, and we came out and did it," Johnson said. "We wanted to execute a lot more and push it up the court and look for shots that we could make."
The Lions found plenty of shots they could make. The scored 22 points in the quarter on eight of 11 shooting.
A bucket by Ryan Delich early in the fourth quarter gave LHS its largest lead of the game at 28. Tonganoxie's Gabe Belobrajdic scored 10 points in the fourth quarter and helped the Chieftains trim the deficit a bit.
In all, 11 different Lions scored. Beall and Johnson led the way with 10 apiece, Didde had nine, Rush scored eight, Hauver and Clayton Hall had six apiece, Delich and Chris Hill each scored three, P.J. Sigle and Richie O'Donnell had two and Jason Wahaus chipped in one. Belobrajdic had 18 for Chieftains, Wentz-Hall scored seven, Forbis had five, Jamie Everett had three and Keaton Schaffer and Jeremy Carlisle added two apiece.
Tonganoxie now is 1-4 overall and 0-2 in the KVL.
Lansing next plays at 7:30 p.m. Wednesday at home against defending league champion Basehor-Linwood.
"They've got a lot of talent over there, and I think we match up with them and they match up with us pretty well, so hopefully it'll be a great game," Briggs said. "They're a good team. On film they just do a lot of things right. They're very well coached, work extremely hard and do a lot of the right things. We're kind of looking forward to playing them, though, and I'm sure they are (looking forward to playing) us."