Storm cleanup continues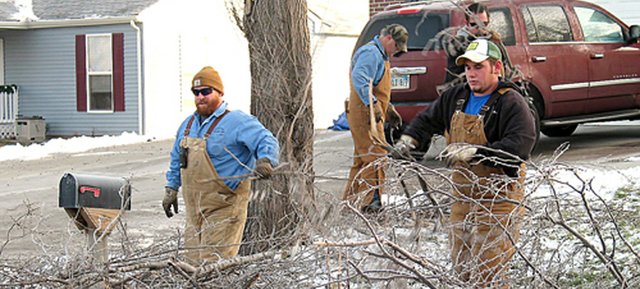 Photo Gallery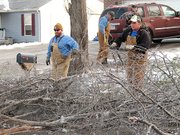 Ice storm cleanup
As ice from an early week storm thawed Thursday and Friday, work crews and Lansing residents removed downed limbs from neighborhood streets and yards.
Lansing Public Works and Parks and Recreation workers have been busy since freezing rain left trees throughout the city encased in a quarter-inch of ice Monday night.
Fortunately, though, public works director John Young said Thursday, "We didn't have as much damage as we had anticipated, and probably less than Leavenworth.
"It hasn't been a significant problem : There have been some isolated power outages, but most of those have been taken care of."
A crew with Louisville, Ky.-based Nelson Tree Service Inc. finished repairing a Westar line that had been damaged by a broken limb in the 400 block of Holiday Drive, Thursday afternoon.
One worker, Benny Santos, said his crew had been working 17-hour days, removing limbs from power lines to get electricity back to homes, since arriving in Leavenworth Monday night.
Local private tree services, like Hank's Tree Service in Leavenworth, also removed several limbs from power lines, like those that had fallen along East Carol Street.
Mostly, Hank Salsberry said, it's just been branches and limbs that have snapped off, although his company did dispose of two completely uprooted trees in the city of Leavenworth earlier in the week.
"But with all that ice melting, everything's straightening back up," Salsberry said.
Many Lansing residents, like Mike Boling, who lives on East Kay Street, spent Thursday and Friday clearing debris from their yards and hauling it to the County Transfer Station, east of Kansas Highway 7 on Gilman Road.
The transfer station will continue to accept brush free of charge through Saturday, Dec. 15, at 4:30 p.m.
Interim director Tony Turner said that, as of the end of the workday Thursday, the transfer station had collected 23 tons of brush.
Come spring, Turner said, workers will sort through and grind the brush into mulch, which will then be distributed free of charge to county residents.
"They can have as much of it as they want," transfer station scale operator Elaine Brenneman said. "That's just another service we provide."
Lansing City Administrator Mike Smith acknowledged that the city would aid residents who have absolutely no means to remove limbs on their property, but added, "Every person I put on that is taking them off another job."
He advised, "If you've got a truck or a neighbor's truck, give each other a hand, so we can have everything cleared up soon."
Smith said that in the event of a more catastrophic ice storm like in 2002, when widespread outages left many without power for days, the city would play a bigger role in removing downed trees and would work with the Red Cross to open Lansing's Community Center for affected residents.