Resident 'throws away $30,000' on project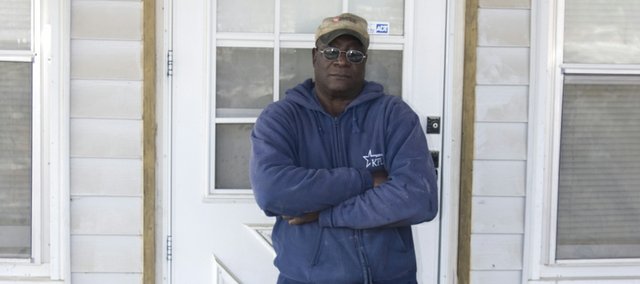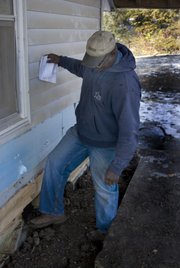 Robert Hudson should be spending the holidays with his family in his rural Tonganoxie home of 14 years.
Instead, Christmas will be spent in the three-bedroom trailer he has been renting in Leavenworth since July when construction work for a new foundation began in his home.
"We were not here for Thanksgiving and we won't be here for Christmas or the New Year and that doesn't make me feel very good," Hudson said.
Since the project's original deadline Oct. 1, Hudson, a retired Kansas Gas employee and now bus driver for the Tonganoxie School District, has been arguing with John Earnshaw, owner of Heritage Property Development in Lenexa. The disagreement surrounds $30,000 of work that Earnshaw was contracted to do: Raise the house, install a 9-foot-tall foundation and cement under the house to create a basement.
Finally sick of not being able to move back into his home, Hudson filed a complaint with the Kansas Attorney General's Office on Nov. 26. A fax with supporting material, including pictures of damage to the house, was attached.
Inside the house, stress fractures were visible along the walls. Doorways were crooked and the floors were slanted, not allowing some doors to open and close properly.
Outside, wood that was supposed to be holding up Hudson home could be wiggled out of place like a Jenga piece.
Chris Duns, director of planning and zoning for Leavenworth County, said there were no building codes for the county and building inspections were not required.
Contractors working in the county would also not need a license, just a building permit if the new structure would be larger than 100 square feet, Duns said.
Hudson just wants to move back into his home as soon as possible.
"I don't want to have the insurance company pay for someone else's mess up," Hudson said. "To me that's not right. Not to be mean or anything, but I just threw $30,000 away, I just threw it away."
In an interview Friday, Earnshaw said that construction work had been slowed down by the weather and by factors out of his control. For instance, he said a subcontractor did not do what Earnshaw paid him to do. Also, undocumented change orders, such as concrete slab removal underneath the east entrance and floor construction for that entrance.
While Earnshaw will take some of the responsibility for the project being so far behind, he said communicating what needed to be done with the project has also added to the delays.
"He just changed a lot of things." Earnshaw said. "He'll say one thing one day and the next day it will be different. I've just had a hard time dealing with him because he's not a very good communicator."
However, this is not the first time that someone has had issues with the Kansas City area contractor.
Cherie Reese, vice president of the Better Business Bureau of greater Kansas City, said that there were two complaints filed against Cross Timber Construction - a company Earnshaw owned - within the last 36 months. The most recent complaint was in March. The complaint stated that Earnshaw had failed to honor his contract agreement by not completing work that began in February.
"He didn't finish his job and they had to hire another contractor to finish it for him," Reese said.
A 2005 complaint also stated that Earnshaw had not completed construction work and that tools were missing from the homeowners property.
Reese said the bureau only keeps records for three years.
"I'm not perfect," Earnshaw said. "I've had problems with jobs every once in a while. But if you do your homework you'll see that I haven't been sued in a long long time and there's a reason for that."
Earnshaw said that he is still willing to work on the property and complete the job, but noted the amount of time left and the money required to complete the job would have to be negotiated with Hudson
Hudson, however, doesn't want anything more to do with the contractor, not even settle the matter through arbitration. Hudson said that he was getting ready to file a lawsuit.
"I don't want to work with him any more," Hudson said. "He had five months to get me back into my house and give me quality work. He hasn't done that and it shows. I have explained to him that I don't want anything else from him but to get his equipment from my house and leave."
To make matters worse, Hudson reported Tuesday to the Leavenworth County Sheriff's Office that a generator and a table saw valued at $700 were stolen from his property. The report did not state that there was a connection between the two incidents. However, an investigation is ongoing.
The response letter from the Attorney General's office stated that it could take 30 to 45 days for the office to contact Hudson.