2 juveniles vandalize B-L district vehicles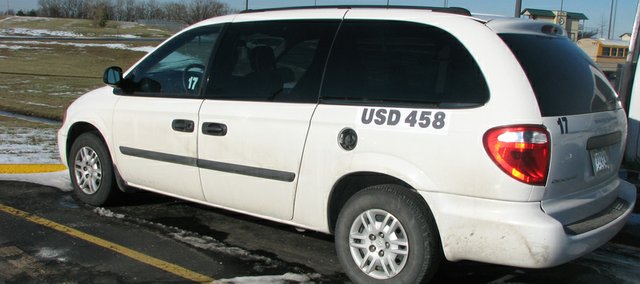 A couple youths are in trouble for causing more than $7,000 in damages to Basehor-Linwood school district vans.
District officials discovered dents and scratches on four of the vans parked behind the district's central office, 2008 N. 155th St., and reported it to the Basehor Police Department Nov. 27. The next evening around 6:30 p.m., two young males were caught kicking off the gas caps of the same vans.
"One of our off duty officers was going home and he noticed two juveniles vandalizing the vans," Lt. Lloyd Martley said.
When the officer stopped to confront the youths, one was apprehended, but the other one ran away, Martley said. Shortly after, the juvenile that had run away returned to the scene with the mother of the apprehended youth.
The boys, both 13, were arrested and questioned by police with their parents present. A female witness, also 13, who did not participate in the vandalism, was also questioned.
"We were able to get both of them to admit to the vandalism," Martley said. "They said, 'we don't know why we did it. It was the dumbest thing we could have ever done.'"
Both boys were charged with criminal damage to property on the felony level because of the extent of the damage, Martley said. Damages were estimated at $7,539. They were released to the custody of their parents after questioning and the case has been submitted to the county attorney's office.
District Superintendent Bob Albers said that the vans are currently drivable and the damages have been reported to the district's insurance company. Repairs should be made during the upcoming winter break. As for security, Albers said they are not too concerned at this point.
"I think it's an isolated thing because those vans have sat behind the district office for many years and nothing has ever happened," he said. "We don't anticipate a recurring problem."