Artwork brings pride to Lansing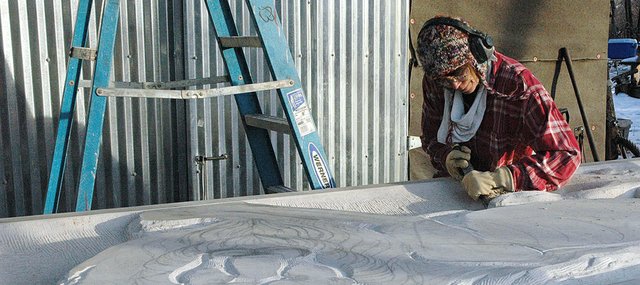 In a studio nestled in a grove of trees just outside Lawrence, an artist leans over a 3,000-pound block of cottonwood limestone slowly bringing forth the image of a massive lion.
With an air tool in hand, artist Laura Ramberg chips away the native Kansas stone, producing the strong but benevolent face of a lion that will soon represent the pride so many Lansing residents feel toward their students and schools.
Photo Gallery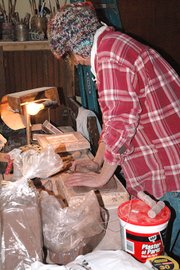 Lion relief sculpture
The relief sculpture, which measures four feet by nine feet, will anchor the future Wall of Pride that will cover a 27-foot by nine-foot area within the new high school auditorium's lobby.
The wall, a gift from the Lansing Education Foundation Fund, will include the lion sculpture surrounded by tiles engraved with the names of Lansing residents who purchase part of this piece of history.
"Lansing is a great place to live and we have really good schools," Mary Alice Schroeger, LEFF director, said. "We call it the Wall of Pride because the community is proud of what we've accomplished."
Planning for the wall, which Schroeger described as a collaboration between the artist, LEFF committee members and art teachers throughout the district, started in June. Ramberg said her favorite part of the process was the research involved before even touching the piece of stone.
In June, Ramberg took a trip to Italy. The previously planned trip coincided perfectly with her research and she was able to photograph and sketch famous lions in art from across the world.
Ramberg said she was happy she was recommended for the project because she loved working on animals, but she had no idea just how much this newest assignment would affect her.
While visiting the Topeka Zoo, Ramberg sat and watched a lion sleep for over an hour. Slowly the lion began to wake and took interest in her. She said the big creature stood up, walked straight toward her and the two made eye contact.
"It was thrilling," she said. "I knew there is some innate energy and power in those animals. They have a spirit that's amazing."
Her goal is to capture that essence of a lion and show the serious - but not scary - side the creatures possess.
Ramberg has also been creating the decorative terracotta tiles of a lion's face that will be sold along with the wall tiles where the names are engraved. The wall tiles will cost between $100 and $1,000, with the size of the tile corresponding to the cost.
With a purchase of a $250 or more wall tile, the donator will also received a six-inch by six-inch decorative tile as a gift. It is not necessary to buy a wall tile, however, to purchase decorative tiles, which range from $75 for a 12-inch by 12-inch tile to $25 for the smaller six-inch by six-inch tile.
Each tile is handmade by Ramberg. While she has made a mold, which she presses clay into to speed up the process, once the clay is dry, she individually works on each tile giving it details and a personal touch.
In addition to her artwork, Ramberg will be visiting art classes throughout the district and giving lessons to Lansing students. She will visit each class for two days, giving a talk on the history of the lion art and lions throughout culture and participating in a sculpture art project.
"I'm looking forward to the teaching and sharing with the kids," Ramberg said.
Ramberg said she hopes to have the giant relief sculpture done by March. The wall, including the sculpture and the tiles sold in the first phase of sales, will be installed in the summer of 2008.
If you are interested in purchasing a wall tile or decorative tile, order forms are now available. Schroeger said each student has been sent home with a flyer that should be filled out and returned by Jan. 31 2008. For more questions or to be sent an order form, contact Schroeger at 913-727-6541 or by e-mail at schroegerm@usd469.net.
All of the money from the tiles will go to LEFF, which in turn has made the promise to donate 50 percent of all of its proceeds back to the Lansing schools to benefit the teachers and students.