Council addresses 'unsafe and dangerous' structures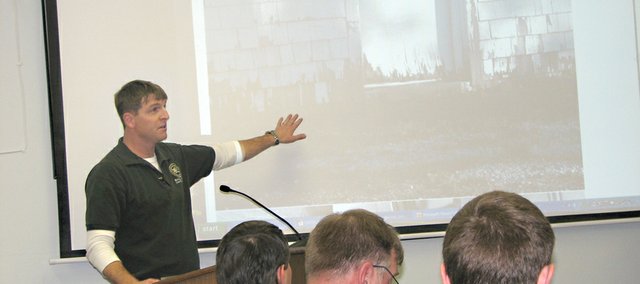 The Basehor city council gave a few property owners a choice Monday night - either begin to repair their unsafe, dangerous or uninhabitable buildings or tear them down.
Three buildings within the past year have raised red flags with building inspector Mark Lee, as well as other city officials. A public hearing allowed council members to speak with property owners and decide a time frame for repair or demolition.
The first structure at 15411 Parallel Road used to be an old church. Owner Randy McDowell said he thought he had it sold, but the potential buyer backed out. He said he had no problem with tearing the building down, but needed until spring because he wanted to salvage wood on the interior.
"It may not be unsafe, but it is unfit for human inhabitation," Lee said. "The structure takes on water almost every time it rains."
Council members agreed, 5-0, to grant McDowell 150 days to take care of the structure.
Next on the list was a small building at 1104 N. 150th St. Lee said there were several items found in and around this barn-like structure indicating that people live or have been living there even though there are no services to the building.
"It appears to me that it's a stopping off point for hitchhikers or vagrants," he said. "It's just become a dumping ground for everything. There are piles of clothing. There's furniture."
Ed McIntosh said he was not the owner of the property, but had a contract to buy the property. He said that he did not have a problem tearing down the structure, but would like to reassemble it elsewhere and use it as a barn.
"I would like a reasonable amount of time to get over there and get it done," McIntosh said. "We have all the equipment."
The council also unanimously granted McIntosh 150 days for repair or demolition.
A building at 2805 N. 155th St., which used to house the Basehor Veterans of Foreign Wars post, has been in question since Lee and Fire Marshal Kenny Magaha determined it unsafe and dangerous after an inspection in June 2007. Photos taken of the building revealed termite damage, incorrect wiring, open electrical boxes and a crumbling ceiling.
"The electrical in the building was very hazardous," Magaha said. "The building was just unsafe for anybody to occupy it."
Owner Jeral Cooper's attorney said the building could be easily repaired, an engineer had already determined that the building was structurally sound and Cooper just wanted the opportunity to sit down and discuss with the staff the specific things that needed to be repaired.
Lee said that a list of items and several letters have been sent to Cooper, but he had indicated on the day of the inspection that he was not going to put anymore money into the building. Cooper said he asked for a permit to build a new building on the property.
Cooper also told the council some of his plans to fix the property including replacing service boxes and remodeling the upstairs and the downstairs. He said he wanted some time to discuss what needed to be done to make the building safe with Lee.
"It's very important that I do keep the building and I do remodel," Cooper said.
Mayor Chris Garcia said Cooper was allowed time to come to the council earlier in the year and spoke about other things rather than his plan to take care of the building. Members of the public receive a standard five minutes to speak during the public portion of city council meetings. He said he had ample time to come to city hall and speak to Lee, but has not done that.
"The difference between this and the other buildings is this was a public building," Garcia said. "We never heard a word about how he was going to fix it. It is now December, six months later. Why hasn't anyone been in here to talk to our inspector?"
"If Mr. Cooper wants to try to put the time into this, he needs to get the engineer to give me a full report," Lee said.
City council members agreed, 5-0, to grant Cooper 90 days to commence repair or removal of the structure.
In other action Monday night, the council:
¢ Approved, 5-0, a request from the VFW to place American flags on utility poles for Memorial Day, Flag Day, Independence Day and Veterans Day. The city will send a letter to Westar Energy to gain permission for members of the VFW to install brackets on the utility poles from Leavenworth Road to U.S. Highway 24-40 to hold the flags.
¢ Approved, 4-1, with Iris Dysart opposed, to accept the proposed street right-of-way, utility easements and temporary construction easements from the Catholic Archdiocese related to the alignment of 152nd Street at Leavenworth Road.
¢ Approved, 4-1, with Jim Washington opposed, a resolution of support for a tax credit application to be filed with the Kansas Housing Resources Corporation for Sunset Ridge senior affordable rental housing complex.
¢ Approved, 3-2, with Terry Thomas and Keith Sifford opposed, to increase sewer rates by 2.5 percent effective May 1, 2008 and raising connection fees by $250 effective Jan. 1, 2008.
¢ Tabled, 5-0, municipal codes regarding sewer connection fees and month sewer maintenance fees until further review by the city attorney.
¢ Approved, 3-2, with Dysart and Washington opposed, pay request No. 3 and change order No. 4 to H.E. Miller & Sons for work performed on 147th Street and Parallel Road.
¢ Approved, 3-2, with Dysart and Washington opposed, to suspend the condemnation and right-of-way for the Hickory Street extension over the Baker property.
¢ Denied, 3-2, with Sifford and Terry Hill in favor, the 2008 Wage Plan Adjustments. Council members said they agreed with the plan, but it needed to be modified. It is scheduled to be back on the Jan. 7 council agenda.
¢ Approved, 5-0, a request from the Planning Director to attend the 2008 American Planning Association National Conference from April 27 to May 1, 2008.
¢ Approved, 5-0, year-end transfers.
¢ Approved, 5-0, the renewal of Liquor and Cereal Malt Beverage License for Kelley's Grille & Bar, Simple Simons and Shorty's Liquor.
¢ Approved, 5-0, the renewal of the contract with Leavenworth County for probation services for year 2008.
¢ Met in executive session for 40 minutes to discuss attorney-client privilege.