Former chairman welcomes fort graduates to global community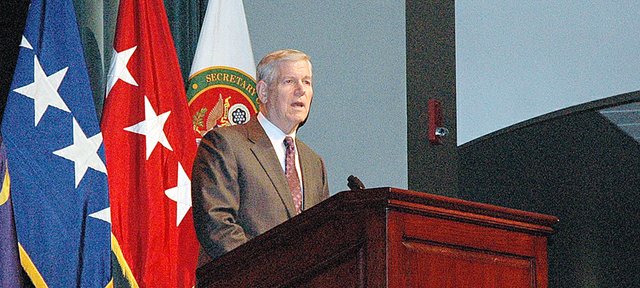 The new challenges and complexities of being a solider during this period in history was the message of a speech made Friday to the graduating class of the United States Army Command and General Staff College at Fort Leavenworth.
Gen. Richard B. Myers, former chairman of the Joint Chiefs of Staff, spoke to the graduates Friday not just about the struggle they face in their futures, but of the preparation they received during the Fort's 10-month, graduate-level program they just completed, which focuses on war-fighting and leadership skills.
"I just think how lucky we are that we have people who want to dedicate their lives to this profession," Myers said of graduates.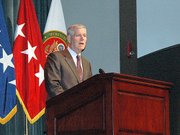 Myers, who was introduced by Lt. Gen. William B. Caldwell IV, commanding general of Fort Leavenworth, as a man who has "lived and shaped our history on all levels", retired in October 2005 as the 15th chairman of the Joint Chiefs of Staff.
Myers said the biggest challenge facing the military right now is forming a strategy to deal with violent terrorist attacks. A strategy on an international level is greatly needed, he said, because any attacks, whether on the U.S. or other countries, affects the entire world.
Following the ceremony in a later interview, Myers went on to say that the work being done now to suppress terrorist attacks isn't enough. While al-Qaida's ability to operate in the world has been diminished, he said their enthusiasm has not.
His advice to the graduates, who he said would be the new leaders fighting the current war, was to be innovative.
"There is no cookbook to deal with today's problems," he said.
While knowing the doctrine of one's own country is good, he said being flexible in thought was the key to success in a global community. He said no big issue of today can be solved by one country alone so we need to keep reminding ourselves that we're "all in this together."
One soldier who is ready to take Myers' message and put it into action is Maj. Eric Maxwell.
As part of Friday's graduating class, Maxwell said he enjoyed spending time with his family and reconnecting with old friends from former military work.
"It was a good year, but it's time to get back to work," Maxwell said of his eagerness to return to active service.
He said that while he learned a lot at the college, he sometimes felt guilty that he couldn't be out fighting the fight for the country he believes in so strongly.
¢ See more coverage of the graduation on page 8A