International students receive special badge
Fort Leavenworth recognizes foreign
CGSC

graduates with 43rd annual ceremony, medal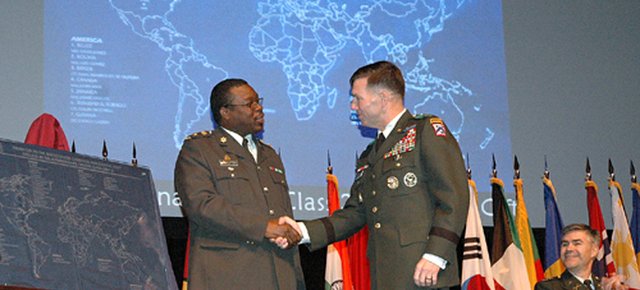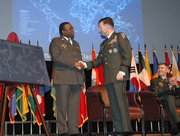 One by one, 27 international officers made their way across the stage to be presented with a badge that Fort Leavenworth's commanding general said represents honor, respect and - most of all - responsibility.
"It's a responsibility to return with the lessons of this past year and improve on the armies of your own countries," Lt. Gen. William B. Caldwell IV, commanding general of Fort Leavenworth and commandant of the U.S. Army Command and General Staff College, said Thursday, Dec. 13, during a International Military Student Badge Ceremony.
Thursday's badge ceremony was the 43rd year the students who came from another country to study at the command college have been honored with a special medal to wear on their uniform. The students, who represent 26 countries, will officially graduate with the rest of the command college's second graduating class of 2007 in a ceremony today.
Caldwell said in his own graduating class from the command college there were 111 international officers, many of whom went on to be honored by the fort for their military accomplishments. He said that was a testimony of the caliber of students that are sent here by numerous countries to learn.
"You are the best your country has to offer," he told the soon-to-be graduates.
Caldwell went on to say that the knowledge the students gained by visiting and learning in a foreign country will stay with them forever. From the mixing of cultures to the gained relationships, Caldwell acknowledged the effort each of the international students made during their time at Fort Leavenworth.
He said it was their responsibility to forge ahead with the friendships they've made. Long gone are the days when countries work alone, he said, meaning the international community of the world depends on them to strengthen and educate people after returning to their own country.
"You should look at this as a tremendous opportunity to change the life of others," he said.
Giving the senior international student address was Lt. Col. Colin Mitchell, of Trinidad and Tobago.
Mitchell began by admitting that the first day at the command college was a day of apprehension for him and many of the international students. He said bringing together so many different cultures has given his class a unique bond and a richer education.
He said the badge represents the dedication and hard work the students put into their education while part of the course. He reminded his fellow students to cherish the relationships they've formed over the year that will follow them the rest of their lives.
"While we may be separated by oceans, mountains and other waters, we are linked by a spirit of friendship," he said.
Special honors were then presented to two of the students. Maj. Banit Negi, of India, received The General Dwight D. Eisenhower Award and Lt. Col. Andrei Sorochin, of Moldova, received the Maj. Gen. Hans Schlup Award.