LHS

senior a finalist in photo contest
If the Kansas City Chiefs want to go to the Super Bowl this season, they'll need to buy tickets or get a spot on the pass list.
There's a chance Lansing High senior Griffin Davis might be there, too, but his trip could be free.
He will find out on Jan. 5 when the winners of the Canon & Pro Football Hall of Fame "Why Do You Love Football?" Amateur Photo Challenge are announced.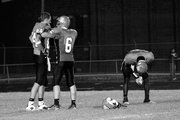 Davis' photo, titled "A Hard Loss," made the cut as one of 14 finalists in the teen category, open to fans ages 13-18. The grand prize winners will have their photo on display at the Pro Football Hall of Fame in Canton, Ohio. The winners also will receive a trip for four to the Super Bowl on Feb. 3 at University of Phoenix Stadium in Glendale, Ariz., and a trip for four to the 2008 Pro Football Hall of Fame Enshrinement Celebration in August.
Davis admitted he was excited to be a finalist, but he's trying not to get his hopes up too much in case he doesn't win.
"It's pretty cool," he said. "The other pictures are pretty good too, so I'm trying not to think too much about it."
A panel of judges including former NFL quarterback Archie Manning, Sports Illustrated photographer Peter Read Miller, US Presswire photographer Craig Melvin and Tony Tomsic, a photographer who has shot every Super Bowl, analyzed more than 4,100 photos before narrowing down the pool of finalists.
The ultimate winner will be decided by fans. To vote Online, go to www.usa.canon.com/nfl. Voting is open through Jan. 4, and each person who votes is eligible to win a Canon Rebel XTi camera.
Davis' photo was taken at the end of Lansing's 21-14 playoff loss to Gardner-Edgerton on Nov. 2. The black and white picture captures the emotions of seniors Stephen Didde, Justin Smith and Kevin Johnson.
"It shows how everybody really felt because it was such a hard loss for everybody," Davis said of the photo. "It really shows the depth of how people were feeling."
After taking photos for the LHS yearbook last year, Davis bought a Canon 30D camera over the summer. He was using it the night of the LHS-Gardner football game.
A future photo journalism major at the University of Kansas, Davis stumbled across the photo contest one day while looking at photos on NFL.com. When he saw the contest, he figured he'd give it a shot. He said he didn't expect anything to come of it.
Since finding out he's a finalist, however, his photography has been a hot topic. He was pulled out of class on Friday to be a guest on the "Crunch Time" program on 810 AM radio.
Davis figures to be an even greater topic of discussion if he wins the contest. After all, other people are sure to want a spare Super Bowl ticket.
For his part, Davis isn't concerned one way or the other. If he wins, great. If he's one of the other top finishers he'll win a camera and a printer from Canon. And if he's out of the running, it's still something to put on the college resume.