'

Roids not the rage in Lansing community
Locals disappointed in pros, say hard work is the way to go
Muscle-fatigued grunts and the clanking of weights echoed through the Lansing High weight room Friday afternoon as about two-dozen LHS athletes - half of them baseball players - pumped iron during offseason workouts.
The scene was typical of a weekday winter afternoon, but the conversation on this day was different. Twenty-four hours earlier, former Senate Majority Leader George Mitchell released the results of his investigation into steroid use in Major League Baseball. In all, 86 players' names were included as users of steroids, human growth hormone or other banned performance-enhancing substances. Perhaps the biggest of those names mentioned was seven-time Cy Young winner Roger Clemens, arguably the greatest pitcher of his generation. Other eye-catching names in the report included Andy Pettitte, David Justice, Mo Vaughn, Paul Lo Duca, Eric Gagne, Gregg Zaun, Lenny Dykstra and Paul Byrd.
Some names in the report surprised LHS athletes. Others did not.
"I was really surprised with the names that came out : so many of the people that said they didn't do it," LHS junior pitcher Taylor Majure said. "I was surprised that Roger Clemens of all people would come out as a person doing steroids.
"It's pretty disappointing seeing somebody like that, somebody people look up to, to come out with using steroids or doing something illegal."
The steroid problem is an issue that people in Lansing's baseball community hope Major League Baseball will get a grip on soon.
EYE-WITNESS INSIGHT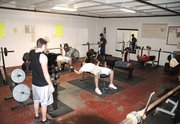 Harley Douglas has no doubt professional baseball has a mess on its hands with performance-enhancing drugs. The Lansing High baseball coach witnessed it first-hand during a two-year stint as an outfielder in the New York Mets' farm system.
"It's just one of those things that's very prevalent in the minor league system, and they need to put something into effect," he said.
Douglas said not everybody in pro baseball is using illegal substances, but he said everybody takes something.
"Every person is doing some sort of supplement, whether it be protein supplements, weight gainer, Creatine : everybody's trying to get the extra edge," he said.
Douglas said players' reasons for using performance-enhancing drugs in the minor and major leagues are varied, whether it be landing a roster spot with a big-league club or inking a multi-million dollar contract.
Douglas said he used the legal supplement Creatine, which is available in most grocery stores, while playing college baseball at Washburn University in Topeka, but he said he never felt the urge to use anything illegal as a college or professional player.
"I didn't feel any pressure, really, because of where I came from and where I was," he said. "I had strong enough family values and was content with what I was, and I thought I was a good enough player that I didn't need to do that stuff. But keep in mind I didn't get to AA or AAA ball. I wasn't the 41st man on a 40-man roster. I played behind some guys who are in the major leagues, but I was expendable."
CAUSE FOR CONCERN
Douglas may not have felt like he needed to do anything illegal to gain an edge on the baseball field, but some players do. According to the Mitchell Report, that includes players in the high school ranks. The report cites an estimate by the National Institute on Drug Abuse that the percentage of high school athletes using steroids has fallen in recent years, but that "hundreds of thousands of high school-aged young people are still illegally using steroids."
In addition, a 2006 Monitoring the Future Study conducted by The Office of National Drug Control Policy revealed that 1.6 percent of eighth-graders, 1.8 percent of 10th-graders and 2.7 percent of 12th-graders reported using steroids at least once. Meanwhile, a 2005 Centers for Disease Control and Prevention survey of high school students claimed nearly five percent of high school students surveyed said they'd used steroid pills or shots without a doctor's prescription at some point in their life.
Douglas said it is important for young athletes to understand the dangers and consequences of using steroids and other illegal performance-enhancing substances. He said there are safe, legal options they can use, but that they should educate themselves first by talking to their doctor, parents, coaches or athletics director first.
"You want the kids to take from it the fact that it's bad to do steroids, it's bad to use those performance enhancers that are illegal," he said. "On the other hand, I'm an exercise physiologist, and to sit here and tell a guy like me that certain kids aren't going to see the benefit from using certain substances that are legal - things like protein and Creatine - I'm all for that."
PARENTAL INFLUENCE
Coaches aren't the only ones worried about the example set by professional baseball players who use performance-enhancing substances. It's a problem for parents, too.
Jim Stratton is the father of three boys, including two current LHS baseball players, and a daughter who plays softball. He also has spent years as a volunteer youth baseball coach in the community.
Stratton worries that young athletes will see the fame, lavish lifestyles and big contracts that professional athletes have, and then cross the line while trying to achieve that same success.
"My concern is the kids that are willing to pay whatever price to be successful, whether it be my sons or my daughter or the kids they play with," he said. "They need to be taught to measure success, and success isn't necessarily playing pro or going to college or being All-State or whatever. Success is different for each person. I think they need to be taught what success is, and when they're taught what success is, they're going to find out there's no need to use performance-enhancing drugs."
The success Stratton refers to is individuals pushing themselves to the limit and finding out how good they can be while playing within the rules.
Stratton encourages his sons to achieve the results they want by working harder. He supports their endeavors by investing time and effort into their training. He built a pitcher's mound in his backyard and throws batting practice to his boys, and he constantly analyzes and evaluates their progress.
Stratton said he looks at the kids he has coached and his children's teammates, and he doesn't see anybody he would guess has used any illegal performance-enhancers.
"You've got parents who are real interested in their kids, who are definitely paying attention to what their kids are doing, what foods they're eating and how they're working out," Stratton said. "I don't think it's been a big issue (for kids in Lansing) because their own parents have been cognizant of what they're doing."
CONSEQUENCES
Athletes who use illegal performance-enhancing substances risk facing severe consequences. The United States Drug Enforcement Administration lists heart attack, stroke, increased risk of blood clots in blood vessels, breast development in men and increased irritability and aggression among the side effects of steroid use. The Mayo Clinic lists swelling in the arms and legs, arthritis-like symptoms, headaches, bloating, muscle pain, diabetes, abnormal growth of bones and internal organs, hardening of the arteries and high blood pressure as possible side effects caused by taking human growth hormone.
There are legal consequences, too. According to the DEA Web site, "simple possession of illicitly obtained anabolic steroids carries a maximum penalty of one year in prison and a minimum $1,000 fine if this is an individual's first drug offense."
High school athletes in Kansas lose their eligibility if caught using illegal performance-enhancing substances. Rule 14, articles 2-4, of the Kansas State High School Activities Association Handbook deal with the issue of performance-enhancing drugs and other non-performance-enhancing illegal substances such as alcohol and tobacco.
Douglas said he will not tolerate illegal drug use.
"We have a zero tolerance policy here," he said. "If you're caught with something, there's no questions asked. You're done. We're not going to put up with that."
WORK HARD; WIN
The LHS baseball players said they aren't worried about illegal performance-enhancing drugs infiltrating their program. Majure said it's a simple respect issue.
"You have a lot more respect for the people that are on your team (if they don't use)," he said. "If a guy is using steroids, you can't really respect what they're doing because they're not getting there themselves. They're getting there with help."
Junior shortstop Peter Gibson agreed. He and his freshman brother work out in the LHS weight room and at Gruber Gym at Fort Leavenworth during the offseason, and he said that commitment has transformed him as a ball player.
Gibson's batting average, his fielding and his overall strength have improved in the past two years, and he said it's because he dedicated himself to becoming a better player. He said the success means more because he does it the right way.
"Hard work pays off, and that's what I keep stressing to the younger guys," he said. "Hard work really does pay off."