Santa makes early visit to Lansing
Breakfast event brings holiday season alive for young children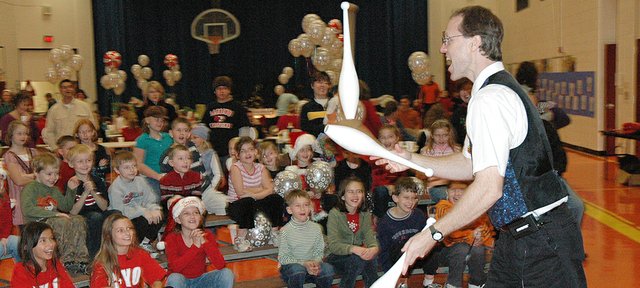 While snowflakes fell outside Lansing Elementary, the school's interior was filled with warmth and holiday cheer Saturday morning at this year's PTA-sponsored Breakfast with Santa.
"The weather's the icing on the cake," LES principal Tim Newton said with a smile, "Because you know if it doesn't snow, Santa doesn't show."
Santa showed, indeed, as the dozens of children who attended Saturday's event had the opportunity to write him a letter and send it to the North Pole or sit on his lap to read it to him personally.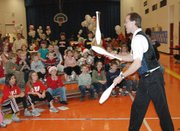 A photographer was on hand to snap kids' pictures with Saint Nick, which were to be sent home with students this week before winter break.
In the school's gymnasium, David JoRay with Chris Cakes, served up steaming pancakes, while PTA volunteers provided sausages, juice and hot chocolate.
JoRay said he planned on making around 1,500 flapjacks for the event.
In the LES music room, students with the Lansing High School Kayettes helped children design Christmas gifts for their family or friends.
LHS senior Jordan McDowell poured bath salt into small, decorative bags and wiped globs of acrylic paint from mouse pads that children were making.
McDowell said kids could also create car fresheners, mugs, clipboards and pots for plants to give as gifts.
'Juggling Jeff,' an entertainer from Liberty, Mo., performed two "winter wonderland" shows, using a combination of magic and juggling to captivate his young audience.
Newton said that the event, which has run for several years now, could not have gone off as well as it did without support from members of the LES/LIS PTA, especially the event organizers, Jackie Kennedy and Sharon Burns.
Newton said the two ladies were at the elementary school until 11 p.m. the night before setting up for the event.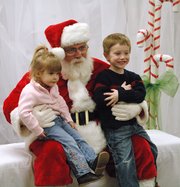 "The elves didn't show up, so they had to do it themselves," Newton said.
While tickets to the event were $6 at the door, Kennedy said, "It isn't a fundraiser. It's meant to pay for itself and give kids a chance to come see Santa, make a gift for their parents and get a good breakfast."
Whether it was their first time at Breakfast with Santa or they had been before, the parents in attendance said it was an event they really enjoyed.
"It's really fun," said Gale Myers, who has a third-grader at LES. "The kids had a great time."