A vision of change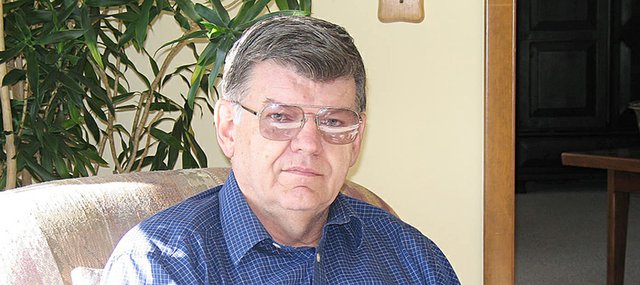 Forrest Holdeman says he enjoys the "small town" atmosphere that Lansing has to offer but, in comparison to other towns, it's really not that small.
Holdeman grew up in Cottonwood Falls, the county seat of Chase County, with a population today of under 1,000.
"I came from central Kansas, and small towns are towns that are less than 5,000 people today probably more like 1,000," Holdeman said.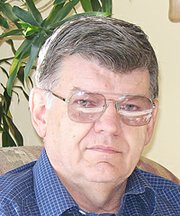 Holdeman, who enlisted in the U.S. Navy after attending Emporia State University in the 1960s, worked for Kansas Power & Light and in sales before becoming an auditor and financial analyst on post at Fort Leavenworth in 1987.
Since moving to Lansing in 1993, Holdeman has taken an active role in local organizations, ranging from the Lansing Lions Club to the Lansing VFW.
Holdeman's wife, Janette represents the 3rd Ward on the Lansing City Council.
"It's a lot of work, and she does a lot of study," Holdeman said.
He noted that he, too, made a bid for the city council once, but was not elected.
"It's probably a blessing, though," Holdeman said with a chuckle.
In 1992, as a Navy reservist, he was mobilized for a short tour or as he calls it, "a free cruise on the USS America" in the Persian Gulf War.
More recently, as part of the 16-member Leavenworth County Comprehensive Plan Committee, Holdeman has joined other citizen-volunteers in providing input for the 20-year land use plan.
"It's pretty exciting," Holdeman said. "There's a lot of vision going into this. Even those of us that are plain Joes and Janes can have a vision for the changes we want to see happen."
NAME: Forrest Holdeman
ADDRESS: 820 4-H Rd., Lansing
OCCUPATION: Retired
FAMILY: Janette, wife; Karin Mance, daughter; Marla Soltow, daughter; Martina Alm, daughter; Marcy Flynn, daughter; Suzanne Labbee, daughter; and 10 grandchildren
HOW LONG HAVE YOU LIVED IN LANSING, AND WHAT BROUGHT YOU HERE? "I came here (to Leavenworth) in 1987 and went to work at the fort as a civilian. We moved to Lansing in 1993."
WHAT DO YOU LIKE MOST ABOUT LANSING? "I find Lansing and the Lansing government to be rather proactive and progressive. We do seem to have some rather visionary people in our government."
WHAT DO YOU DO FOR FUN? "Everything is fun to me. I like to read, and I volunteer; I'm a member of several different organizations. My wife and I do a lot together. We go to the symphony and the Missouri Repertory."
WHAT MIGHT SURPRISE PEOPLE ABOUT YOU? "I'm an open book."
WHAT IS THE BEST ADVICE YOU'VE EVER RECEIVED? "The best advice I can give anyone is to read a lot, determine the facts as you can and make the best decisions that you can from that information."
WHAT CLUBS OR ORGANIZATIONS DO YOU BELONG TO? First United Methodist Church of Leavenworth, American Legion, Veterans of Foreign Wars Lansing Post 12003, Naval Enlisted Reserve Association, Navy League of the United States, Lions Club International, National Active and Retired Federal Employees, Lansing PRIDE Committee, and the Leavenworth County Comprehensive Plan Committee