'

Blue Christmas' service remembers loved ones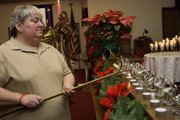 Standing inside the chapel of the McLouth United Methodist Church, Matt Powell picked up a long brass candle lighter.
He approached a row of candles and small angel figurines and held the lighter over a candle he chose to honor his father, Floyd Powell, who died four years ago.
"Merry Christmas, Dad," he said as he lit the candle during the church's Blue Christmas service Friday. Powell, along with seven other church members, lit candles to honor the memories of loved ones who have died.
For two years, the McLouth church has set aside a night before the fun and joyous celebration of Christmas to remember these people.
The Rev. Randy Quinn wanted the night to be close to or during the winter solstice, because it is the longest night of the year.
He said the long night symbolizes the sadness some people feel during the holidays after losing a loved one.
"I've done enough funerals to know this is a hard time of the year," Quinn said. "We hope that this gives them strength while the rest of the world celebrates or that they find a way through their grief."
Tears began to form in red, puffy eyes as Quinn read the names of 24 people they were honoring.
Quinn said he had been collecting names throughout the year as he attended funerals, and church members told him of their loved ones who died. Among those names was Harold Roland, a retired Oklahoma highway patrolman, who died in November. His niece, Sue Hollingsworth, attends the McLouth church and lit a candle for him.
Hollingsworth said she liked the small, comforting environment because it "gives us a place to be sad."
Although the McLouth school district's annual Caroling at the Legends concert might have split attendance, those who did attend were happy with the turnout because it offered them a place where they could grieve and find support.
"It's not important that we fill the pews, but that it happened," Powell said about the service.
Quinn said he planned on continuing the tradition and hopes to get input to improve the service for next year.