Bobcats sink Lions at buzzer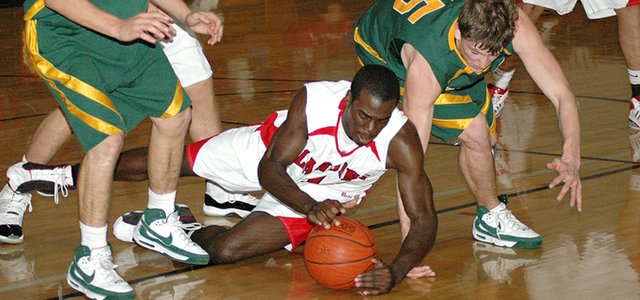 Photo Gallery
Bobcat boys edge Lions
Anthony Pierce's running three-pointer swished through the net as the final buzzer sounded, and the Basehor-Linwood boys basketball team escaped Lansing High's Johnsmeyer Gymnasium with a 57-56 victory on Wednesday, Dec. 19.
Pierce's shot saved the Bobcats from what could have been a devastating loss. They led by as many as 13 points in the second half and held a nine-point advantage entering the fourth quarter.
"We showed so much heart during this game," LHS coach Rod Briggs said. "I found out the main thing I wanted to find out, win or lose, is how tough we are. I think we really showed a lot of toughness to come back."
Lansing trailed 46-33 with 2:12 left in the third quarter, but a 12-0 run during the next five minutes brought the Lions within a point.
Basehor's Jacob Schierbaum finally ended the Bobcats' scoring drought with 5:05 left in the game when his layup gave them a 48-45 lead. Bobby Hauver countered with a pair of free throws, Schierbaum scored on a put-back, and then Hauver tied the game with his second three-pointer of the quarter. Moments later Clayton Hall gave the Lions a 53-50 lead when he splashed home a trey from the top of the key with 3:02 remaining.
Lansing kept Basehor at an arm's length the rest of the way until Pierce's buzzer-beater went in.
The close loss, while an encouraging effort against the defending league champs, was an all too familiar occurrence.
"Last year we had too many of these games, and we lost to them last year and Perry and a couple others," Briggs said. "We've got to start winning some of those, and those will come around. We just did too many things the first half that hurt us, with turnovers and not rebounding the ball like we needed to, and we didn't take the ball to the glass a couple times and missed some layups."
Lansing opened the game on a 6-1 run, but after that it missed open shots and turned the ball over too many times. Meanwhile, Basehor took advantage with a 20-6 run.
The Bobcats seemed to have the game in control until the Lions rallied late and made things interesting.
Hauver led LHS with 13 points, Curtis Beall and Cody Rush scored 11 apiece, Stephen Didde and Kevin Johnson each had eight and Hall chipped in five. Schierbaum scored a game-high 17 points for Basehor. Tanner Swafford added 13 and Pierce chipped in 11.
Lansing now is 3-3 overall and 2-1 in the Kaw Valley League. Basehor improved to 3-3 overall and 3-0 in the league.