The faster the better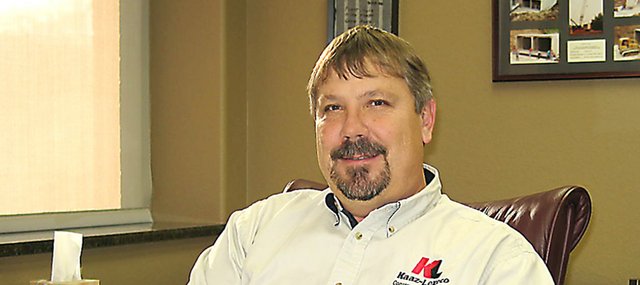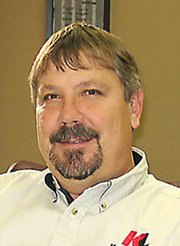 The name Kaaz and construction have been linked in Leavenworth ever since Julius E. Kaaz Jr. began a concrete and brickwork company more than 70 years ago.
Today Julius' grandson, Greg Kaaz, is the president of Leavenworth Excavating & Equipment Company Inc. (Lexeco), the highway construction arm of the Kaaz-Lexeco Construction Companies, while his brother, Stephen Kaaz, heads Kaaz Construction, a commercial building enterprise.
Lexeco has been contracted for numerous local projects, including the Main Street Enhancement Project.
Greg Kaaz also serves on two airport committees and has been heavily involved in bringing forward the concept of a new, regional airport in Leavenworth County.
The seasoned pilot, who said he flies probably once a week from Sherman Army Airfield at Fort Leavenworth, emphasized, though, that the idea of a new airport is still in its infancy.
"It's going to be a very long process," Greg Kaaz said, "And it's going to take a lot of commitment from everyone in the community for it to become a reality : but I think the economic benefit for the community is something they would realize for years to come."
Currently, the County Air and Business Park Committee is in the initial stage of seeing if, in fact, an airport in Leavenworth County is feasible, researching with the Federal Aviation Administration what the process is to obtain federal funding and working out a cost-sharing formula with cities and the county.
The next phase would include selecting a site, conducting an environmental assessment and creating a master plan, Greg Kaaz said.
Outside of his job, the Lexeco president said he enjoys racing, particularly NASCAR.
He said he normally goes to two or three races per year in Daytona, at the Kansas Speedway and one other.
"It doesn't get the same billing as football or baseball, but it's as tough a sport or tougher to compete in," Kaaz said of NASCAR.
On Saturday nights this summer, you might find Kaaz behind the driver's seat himself, racing go-carts at Thunderlake Speedway, just west of Lakeside Speedway in Kansas City, Kan.
Kaaz races in the master's class, a group of about eight 40- to 70-year-old drivers, who compete each week.
NAME: Greg Kaaz
ADDRESS: 716 Cherokee St., Leavenworth
OCCUPATION: President, Lexeco Inc.
FAMILY: Connie, wife; Matt, 20, son; Lauren, 18, daughter
HOW LONG HAVE YOU LIVED IN THE AREA, AND WHAT BROUGHT YOU HERE? "I've lived here for 47 years : all my life."
WHAT DO YOU LIKE MOST ABOUT THE AREA? "The people. You get the small atmosphere but yet it's close enough to big city amenities."
WHAT DO YOU DO FOR FUN? "Flying, boating. I enjoy racing. Anything that goes fast : And I enjoy spending time with family."
WHAT MIGHT SURPRISE PEOPLE ABOUT YOU? "I race go-carts."
WHAT IS THE BEST ADVICE YOU HAVE EVER RECEIVED? "Be honest, and treat people the way you want to be treated."
WHAT CLUBS OR ORGANIZATIONS DO YOU BELONG TO? Angel Flight, Heavy Constructors Association of the Greater Kansas City Area, Leavenworth County Air and Business Park Committee, Leavenworth Airport Advisory Board, Leavenworth County Development Corporation Infrastructure Committee