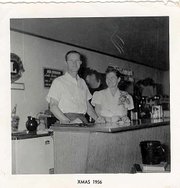 Happy New Year! Thinking about the brand new year almost made me remember a New Year's Eve party we had at the Green Haven Cafe. The address was 401 S. Main St., and it was on the corner of U.S. Highway 73 and Kansas Highway 5, (now South Main and East Mary).
The cafe had a dining room that was used for weddings and special occasions. In addition, the Lansing Lions Club met at that location.
Teenagers used the Green Haven after football games and other town events. The teens loved it because they were allowed to wait on themselves making shakes, etc.
Jim and Elaine McGee purchased the Green Haven in 1955 and it closed in 1972 due to the expansion of Kansas Highway 7 through Lansing. They would furnish quarters so everyone could play their favorite tunes on the jukebox. In 1956, the cafe purchased one of the first color television sets in the county and was a popular hangout for the townspeople to watch the Macy's Thanksgiving Day and Tournament of Roses parades. Many Lansing residents worked at the cafe over the years, including the first mayor, George Caraway.
Jim and Elaine were active members in the Lansing community. Jim served on the City Council and was a member of the Lansing Volunteer Fire Department. Jim and Elaine also had a motel behind the restaurant where rooms rented for $3 and up. Later they gave permission to the fire department to conduct a controlled burn for training purposes.
Jim and Elaine raised three children, Mike, Jim and Janet, who all worked in the cafe. Many others that are probably still residents of Lansing, also worked there. Jim died in August 1987. Elaine now lives in Pleasant Hill, Mo., and stays active. In addition to her three children, she has 12 grandchildren, 19 great-grandchildren and five great-great-grandchildren. She sews, makes beautiful quilts and makes sure that each child has a Christmas present.
In her quilting group at church, she helps make quilts to auction for charity. She still drives herself to church, the grocery store, etc. On Jan. 1, 2008, Elaine will turn 90 years old.
She has many happy memories of her years in Lansing and the people she remembers.
Happy Birthday Elaine. What a legacy!
We wish to thank Janet McGee Allen for the above information.