Local athletes made impact in Kansas and beyond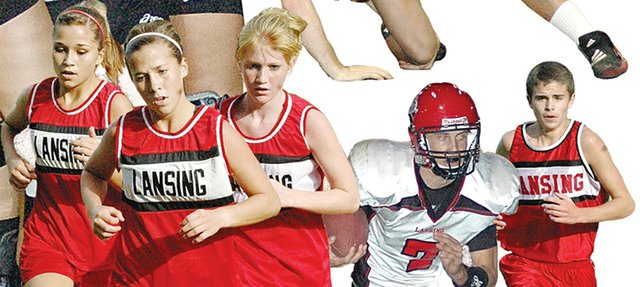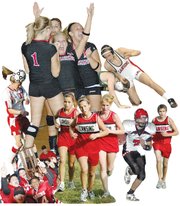 Hi, I'm the city of Lansing. I don't know how to put this, but I'm kind of a big deal. People know me : in Kansas at least. I'm very important on the sports scene in this area and in this state.
I had five Kaw Valley League championships to my credit in 2007, and nine of my local high school teams sent individuals or full squads to the state tournament. One of my residents represented the United States in ice hockey.
Some of my local athletes earned All-State honors, and others earned college scholarships.
I don't mean to brag, but : it's fair to say I was awfully important this year :
No matter what the sport, it seemed like 2007 was a year of firsts for sports in Lansing.
The Lansing High girls soccer team won the inaugural Kaw Valley League championship and advanced to the state quarterfinals for the first time; the LHS volleyball team made it to the Final Four for the first time in Class 5A; the football team won its first 5A district title; and the wrestling team finally captured an elusive league championship.
Then there was the girls cross country team, which used two sophomore veterans and five fresh faces to win the Kaw Valley League championship, qualify a full team for the 5A state meet for the first time and take the first step toward a potential league dynasty.
There also were a slew of stellar individual performances on the local scene in 2007. Then-freshman Rachel Milnark landed on the All-State and All-Metro first-teams in softball; Kyle Buehler advanced to his second straight wrestling state finals match, and Nick Flynn and Dennis Wood made their first trips to the finals; Amy Briggs became the first girls tennis player to advance to state since 2002 and the first ever to do it in 5A; Brittney Lang and Julia Bates earned All-State and All-State Tournament honors while helping the LHS volleyball team to a fourth-place finish; Justin Smith piled up All-State and All-Metro honors after turning in a monster year on the football field; and sophomores Brandon Craig and Lauren Jaqua won their first medals at the state cross country meet.
Also among local firsts, Rod Briggs concluded his first season as LHS boys basketball coach with an 8-13 record and a one-point loss to Bonner Springs in the first round of the substate tournament.
Around town, numerous local youth teams won championships for the first time, and residents such as Lauren Griffen completed their first marathon.
Go beyond the city limits, and Lansing native Meghan Fardelmann made history by helping the Boston College women's ice hockey team advance to its first NCAA Frozen Four. In addition, she earned a spot on the U.S. Women's Hockey Under-22 Select Team and represented the United States at the Four Nations Cup in Leksand, Sweden.
Yes, Lansing had lots of reasons to say "We're No. 1!" this year, and that is reason to celebrate.
In recognition of the year that was, please turn to page 3B for a look back at Lansing's top sports stories of 2007.