Seniors in harmony
Council on Aging's sing-a-long spreads joy through song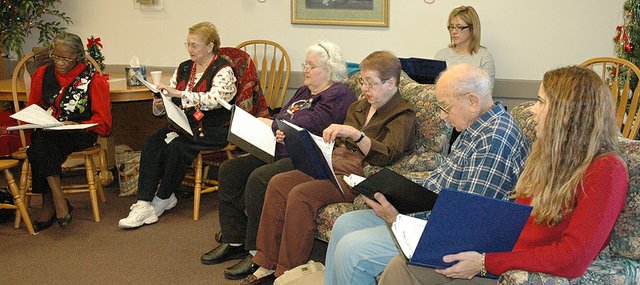 Photo Gallery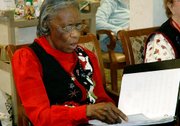 Sing-A-Long choir
With songs such as "Have a Holly Jolly Christmas," "Winter Wonderland," "Jingle Bells" and "White Christmas," the Council on Aging Sing-A-Long choir has been spreading holiday cheer throughout the area.
But that cheer isn't only meant for their audience; the senior citizen members of the choir benefit just as much from their involvement.
This past spring, Victoria Gibson, of Lansing, approached the Council on Aging, 109-A Delaware, Leavenworth, about starting a choir.
Gibson, who plays accompaniment for the choir, has been playing the piano since she was 8 years old and more recently had participated in a similar choir with her mother in Tennessee. She said she thought it was something that the people of Leavenworth County would also enjoy, so she gave it a try.
"I just got it rolling and it turned out to be so much fun," she said.
Since then, the choir has had an attendance of about 15 members who will sing anything from seasonal music to music they listened to as children themselves in the 1940s and 1950s.
Julie Angello, nutrition coordinator with the Council on Aging, got involved as choir organizer because she liked to sing. She said when she heard about the idea, she thought it would be great for senior citizens looking for an activity in which to participate.
"Most of them don't have the opportunity to get involved other places," Angello said. "We just want them to have fun and relax."
The choir fits into the Council on Aging's mission because the choir is about much more than singing. It is trying to provide an activity of leisure and learning, she said, that would also stimulate the participant's mind and help them to get social interaction.
Jean Vance, of Leavenworth, got involved with the Sing-A-Longs as a way to get out of the house and be among other people. The choir fit that need as well as let her do an activity she's always enjoyed.
"I like to sing, and I'm not a real professional," she said. "I was looking for a place I could sing with a group and just participate."
She's made new friends and said she's had fun performing for other people her age. She said often younger people don't realize how hard it is for many senior citizens to get out and get involved in something that's healthy.
"Maybe we help those people," Vance said of the choir's audience. "But mostly we help ourselves because for us elderly people to get out and do an activity is good."
For Nadine Grafe, of Lansing, the Sing-A-Longs give her the chance to volunteer and give back to the community.
"I believe in doing things for other people," she said.
She said she hopes the choir's singing brings happiness to the places they perform. The choir encourages its audience to join in on the songs they know, and Grafe said sometimes that can give meaning to a person's life.
So far, the Sing-A-Longs have performed mostly at local retirement and nursing homes, but Gibson said they would go wherever they were wanted. She said the choir is going to keep finding new places to perform and new songs to sing and just put their time to good use by doing something nice for others.