Shooting woes continue for
LHS

girls in loss
Photo Gallery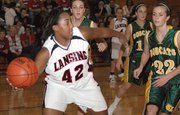 Basehor girls beat Lansing
For a few minutes the Lansing High girls basketball team looked like it was on the verge of snapping its season-long shooting slump.
Then the Lions' shooting woes returned, and the Basehor-Linwood Bobcats took advantage. They shook off an early five-point deficit, took the lead midway through the second quarter and then pulled away early in the second half for a 54-35 victory at LHS on Wednesday, Dec. 19.
Cassie Lombardino, Basehor's 6-foot-3 center and Washburn University signee, picked up two quick fouls and spent most of the first half on the bench. Lansing capitalized by taking an early lead. Brittney Lang scored all seven of the Lions' points in the quarter, but the Bobcats rallied and tied the game.
Poor shooting and ball-handling in the second quarter doomed LHS. It was outscored 14-5 in the quarter and trailed 21-12 at halftime. A three-pointer by Amy Briggs was the Lions' lone field goal in the quarter.
"We got off to a nice start," LHS coach Keith Andrews said. "We got the fouls where we wanted them to be. Things were going our way. And then we've got to create some offense. Somewhere we've got to be able to score. Brittney was very offense-minded : that was great : and all of a sudden you look up and it's 12-10, and we just flattened out."
Lombardino returned in the third quarter, and the Basehor lead quickly expanded to double-digits. Lombardino scored 12 points in the quarter and the Bobcat lead expanded to 16 points.
Katie Nietzke scored 10 points in the fourth quarter, but Lansing was unable to rally.
Although the final result was lopsided, Andrews said he thought his team played better than the score indicated. The problem, he said, was that the Lions continue to struggle to convert easy shots.
"My stat girl came up at halftime and said she had to start a new shot chart because of all the misses that we've had," he said. "I told the girls at half, there were at least a dozen inside shots we missed, and you just can't do that. You make half those : it's 12 points and all of a sudden we're ahead 24-18. We can't afford those missed shots."
Lombardino finished with a game-high 17 points for BLHS, which improved to 6-0 overall and 3-0 in the Kaw Valley League.
Nietzke led LHS with 13 points, Lang had 10, Briggs had seven, Christine Cordes scored four and Morgan Chiles chipped in one. The Lions now are 3-3 overall and 1-2 in the league.