Soldier follows in father's footsteps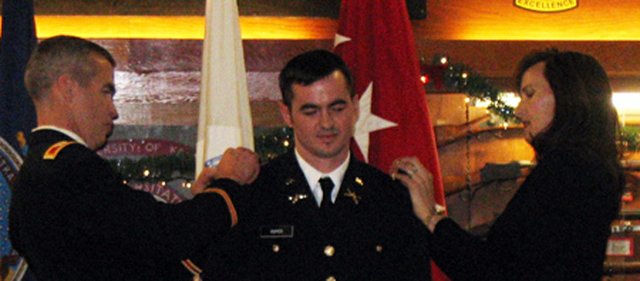 With his right hand raised and a big grin on his face, Daniel Roper Jr. stood face to face with his father repeating back the oath of office that officially completed his commissioning as a second lieutenant in the U.S. Army.
As his father, Col. Daniel Roper Sr., had done 25 years earlier in a similar ceremony, Roper Jr., a Lansing High School graduate, took one step further Friday, Dec. 21, in his military career that started long before he entered the University of Kansas' Army ROTC program.
Since a young age, Roper Jr., said he always knew he wanted to follow in his father's footsteps. So when it came time for the commissioning ceremony, there was no better choice than his father to administer the official oath of office.
"I really wanted it be him and no one else," he said. "It means the world to me."
With only a couple weeks to spare, Roper Sr., was able to return from his second tour in Iraq to be with his son.
As Roper Sr., who works as the director of the counter insurgence center at Fort Leavenworth, sat in the audience listening to the keynote speaker, he tried to remember what was said during his ceremony 25 years earlier at West Point.
He said he couldn't remember the exact words but only the feeling that he had just committed his life to a "very important team."
"They've just signed up to do something bigger than themselves," Roper Sr. said of his son and the four other KU ROTC graduates who also took part in the commissioning ceremony.
His advice to the five newly commissioned officers was to always be totally honest, take care of their troops and to keep learning.
"They'll come to find that their education is just beginning," he said. "Because of the current situations, if you don't work to learn every single day, you become irrelevant."
Roper Jr. said he was relieved that after four and half years of hard work, he's finally reached his goal. His time with the KU ROTC has been filled with its ups and downs, he said, but being raised an "army brat" he never doubted where he wanted to end up.
Roper Jr. graduated from KU with a degree in political science. One of the biggest challenges he said was juggling his time in ROTC and his regular class work. In the past couple years, however, he admitted that his officer training became the most important.
To become commissioned as a second lieutenant, Roper Jr. had to go through a special training program and meet certain standards and evaluations throughout that time.
As retired Army Lt. Gen. Bob Forman, of Overland Park, said in his keynote speech, it's only a few of the finest that make it this far. Forman said it was an honor for the ROTC cadets to reach this point and he was sure that each of the five students were prepared to carry the heavy loads that await them.
Lt. Col. John A. Basso, KU Army ROTC battalion commander and professor of military science, preceded Forman's remarks by saying each of the students had accomplished remarkable things during their time with the KU ROTC. He said it was a hard road but they had demonstrated they would go on to be capable leaders.
"They've proven their worth and they truly deserve to be sitting here today," he said.
In January, Roper Jr. said he would begin working in Kansas City where he would soon be assigned as an armor officer with the 635th armor battalion with the Kansas Army National Guard.