Theme sweetens classroom lesson
Kindergartners use gingerbread men to make learning fun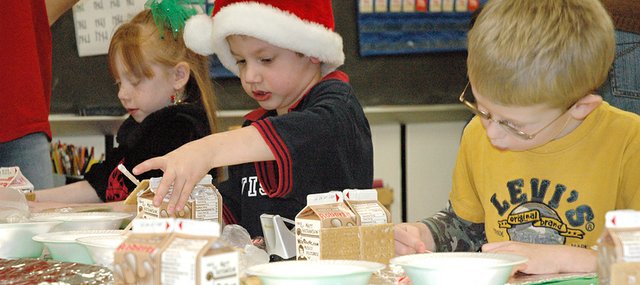 Photo Gallery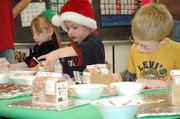 Gingerbread men
"Is it OK if we get messy?" a kindergarten student from Lansing Elementary School asked his teacher with his hand raised high in the air.
The answer usually would be 'no', but with a room full of gingerbread cookies, frosting and candy, students of Vickie Kelly and Andrea Rothmeyer's classes got a special treat Friday, Dec. 21, with an enthusiastic "yes."
As a culmination project at the end of a unit based around gingerbread men, students got to each make and decorate their own gingerbread houses during their classroom party before the start of winter break.
For the past six years, Rothmeyer has been presenting the unit to her kindergarten students as a fun way to end the first half of school. She said she needed a way to keep the students attention and excitement focused on school as winter break approached.
"It's a fun unit that keeps them excited about learning," Rothmeyer said.
Students first made a cutout of a gingerbread man and then with a letter attached, sent it to a relative who lives outside of Leavenworth County, just like the runaway gingerbread man in the books they were reading.
Several relatives then sent back a postcard from wherever they lived, which was then affixed to a giant map that hung on the wall in the lobby of Lansing Elementary School. Rothmeyer's class received postcards from places like California, Florida, Alabama and even Germany.
Rothmeyer said each activity was meant to meet the state curriculum standards but were made more fun by adding the gingerbread theme that was perfect for this time of year.
They read several books about gingerbread men and then discussed how they were different or similar to each other.
Each day, Rothmeyer would hide a picture of a gingerbread man and the students would have to find it and then write a sentence using words like above, below and behind in a special journal.
Rothmeyer said she heard from several parents who were happy because their children were writing sentences about gingerbread men when they got home, which she said told her that the students were enjoying the lessons.
Then came the gingerbread houses. The classroom Friday was brimming with excitement as students and volunteer parents began creating their candy-adorned houses.
With two milk cartons glued to a piece of foil-covered cardboard as a base, students used a frosting mixture to build the walls of their houses out of gingerbread cookies. The frosting held the walls together. Bowls of licorice, chocolates and peppermints began disappearing as the houses came alive with the mixture of brightly colored candy.
Damian Lindstron, 6, said his favorite part of the unit was making the gingerbread houses. He's never made one before and said it was fun. He planned to take his completed house home with him and give it to his parents as a gift.
Lindstron said he was also impressed with the postcards the class received. He said it was "cool" looking at the big map in the hallway of the school and seeing just how far from Lansing the postcards traveled.
Jill Carlson, 5, agreed and said she couldn't believe they got postcards from so far away. But her favorite part she said was having fun decorating the gingerbread houses.
"I'm going to take it home and keep it until I'm big, to remember when I was in kindergarten," she said.