3rd-grader cuts locks for love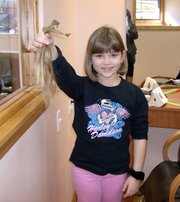 Donating to a good cause is all in Shelby Herring's head - or at least on top of it.
The Lansing Elementary School third-grader just made her second donation to Locks of Love, a nonprofit organization that provides hairpieces to financially disadvantaged children who suffer from long-term medical hair loss.
Shelby has been growing her hair out for a couple of years now - simply for the purpose of donating it for the benefit of other children.
About 18 months had passed since her first donation when Shelby decided it was time to head to the beauty salon.
Hair stylist Mary Noone, of Designing Women in Leavenworth, obliged by separating Shelby's tresses into several sections and then trimming them by 10 1/2 inches.
"If you do more than one ponytail, it will be straighter, more even," Shelby explained.
Shelby first heard about Locks of Love from her mother, Shannon Herring.
Although she doesn't know the children who will benefit from the donations, she said she's always happy to help others.
Shelby has aspirations of becoming an artist and a writer, and she also wants to continue donating her hair for as long as she possibly can.
"I'm going to keep doing it when I'm older : until I'm not living anymore," she said.
Besides the good feeling she gets from helping others, Shelby reaps another benefit after each donation: Less hair means less work.
"It feels better because I don't have to brush it out three times in the morning," she said.