'

Army brat' embarks on own military career
Lawrence — Jeff Givens darts through the door, eyes the booth in the back corner and hurries to the table.
"Sorry I'm late," he says. "I lost track of time. I've been packing my stuff in boxes and trying to find a place to store it while I'm gone."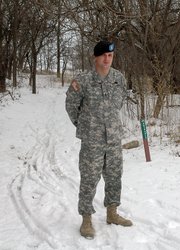 It's Monday, Jan. 22, and Givens is having lunch at Quinton's Bar & Deli in downtown Lawrence. It's one of Givens' favorite college eateries, and this is one of his last times munching here.
The December 2006 University of Kansas graduate has spent the weeks since graduation visiting family and friends, packing up his belongings and catching up on a some sleep.
His life as a laid-back college guy is about to change. A second lieutenant in the Kansas National Guard, Givens will report to Fort Sill, Okla., on Sunday, Feb. 4, and begin officer's basic training. Eventually his training will take him to Fort Benning, Ga., known as "the Home of the Infantry," and Givens will become an active duty officer in the U.S. Army.
It's a time of transition for the 2002 Lansing High School graduate. He's about to leave his friends, family and college town behind and jump feet first into a military career at a time when his safety will be anything but guaranteed. The United States is at war in Iraq, and just weeks ago, President George W. Bush called for a surge of more than 20,000 additional troops to go to Baghdad. Once Givens' training is over, it's possible he could be included in that surge or sent somewhere else such as Afghanistan.
Givens understands the stakes, and he realizes what he's leaving behind. Still, the 22-year-old says he's ready for it.
"This is one of the things that I think being an Army brat helped out with," he says. "I'm kind of sad about leaving all of my friends, but I've done it so many times. I know it sounds kind of bad, but I'm used to it. It happens. It's part of the whole growing up process."
FAMILY TRADITION
Givens calls himself an "Army brat," and his childhood certainly fits the description. The son of a 24-year Army officer, Givens was born in Ulm, Germany. His family later made stops in Fort Hood, Texas; Norfolk, Va.; Omaha, Neb.; Seoul, South Korea; and Fort Riley. They moved to Lansing in 1996 at the start of Givens' seventh-grade year when his father was stationed at Fort Leavenworth.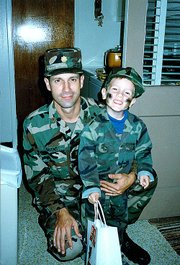 The military made an impression on Givens at an early age. He says he's known since he was tiny that he wanted to go into the Army. His mother, Micki Givens, concurs. She remembers a photo from Halloween 1988 of Jeff and his father, now retired Lt. Col. Jeff N. Givens, when the family lived at Fort Hood.
"My husband came home from work and he was in his old fatigues," she says. "His son Jeffrey was going as a soldier, so I bought him a little fatigues uniform and he had the black under his eyes. He always followed in his dad's footsteps in that way."
Givens was just 4 1/2 at the time, but since then his love of the uniform never has wavered.
As he grew older he learned of his family's proud military history. His father, a fourth-generation infantryman, has traced that history back to the Civil War and says Givens' "great-great-grandfather was an infantryman on the Union side."
The more he learned, the more passionate Givens became about joining the family tradition. His desire grew deeper during his senior year at LHS after the Sept. 11, 2001, terrorist attacks.
"Me and a couple buddies, on Sept. 12 we were in line at the recruiting station trying to sign up," he says. "They kind of laughed at us because we were all 17 and nobody could do it. Even before that I knew that I wanted to go into the military, but I would say overall 9/11 probably further solidified me wanting to join the military."
THE FIRST STEP
After graduating from LHS, Givens enrolled at Wentworth Military Academy in Lexington, Mo. To get there "you go to the middle of nowhere, and you go 20 miles farther," Givens says with a laugh.
Wentworth is a military junior college. While there, Givens earned an associate degree and was commissioned into the National Guard as a second lieutenant. He then transferred to KU, where he joined the Army ROTC program and earned a bachelor's degree in psychology.
With college finished, Givens is about to take the next step. After he completes officer's basic training, his time with the National Guard will be done. He will officially be an active duty officer.
DOSE OF REALITY
As Givens prepares to depart for training, he understands the likelihood is great that he will be sent to help with the war in Iraq. In fact, had he not been a student at the time he could be facing his second tour.
Givens' National Guard unit spent 13 months in Iraq before returning in November. Givens was left behind because he was still in school.
"They were running what they call a JVB mission, which is basically VIP security," he said. "They were escorting politicians, senators, actually some high-positioned media individuals. That was really it."
READY FOR HIS TURN
Givens says he isn't certain he wants to make a career out of the military, but he wants to devote some time to serving his country. His father served more than two decades before retiring and taking over Mobile Hydraulic Equipment Co., in North Kansas City, Mo. Givens says he might eventually venture into business like his dad.
For now, though, duty calls. Givens says he's ready for it. He sums it up with a sports analogy.
"I didn't join the military just to practice, and the practicing is the training and stuff like that," he says. "I joined to do my part, and this is going to sound really strange, but to play the game. You don't join the football team just to go to practices, two-a-days, three-a-days, and then sit on the sidelines while the game is going on. I want to play the game, and right now the game, the biggest challenge, the playoffs are overseas.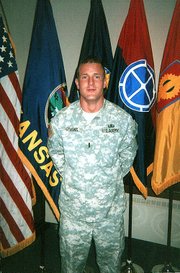 "Am I ready? I'm probably not in the technical sense ready yet with the technical knowledge and proficiency, because that's what these upcoming trainings are going to do. But mentally? Yeah, I'm ready to do whatever needs to be done."
His parents are ready too. They acknowledge that their son might find himself in the line of fire, but Jeff and Micki Givens say they believe in their son and they believe in the cause.
"There's always some part of a mother that worries when her son goes off, especially in the military in times like we live today when there's so much terrorism," Micki Givens says. "But I do believe in the war. I do believe we need to fight terrorists in their country. I don't want them coming here, so I believe in what we're doing and we have to make sacrifices for that."
His father agreed, adding, "I feel it's worth fighting for, and I feel very confident that my son will do very well in that."
While Givens' parents are concerned for his safety, his reservations are elsewhere. He said his greatest trepidation is for the other soldiers he will possibly travel with into battle.
"Maybe I didn't study hard enough in this one particular instance, and down the road it counts," he says. "Maybe I won't have that specific knowledge and it'll either affect the outcome of the mission or affect my soldiers."
Givens worries about his fellow soldiers, but he doesn't worry about himself. Instead, he says he's excited about his future and the opportunities that lie ahead.
"The idea is to go through the infantry stuff for a little bit, get attached to a unit, possibly get a deployment and head over to Iraq or Afghanistan or wherever they need me," he said. "Then I'll come back and put my packet together to go through Special Forces Assessment School and go try my luck with the Green Berets. It looks like fun."