For Buehler, this was personal
Baldwin — All week leading up to the Baldwin Invitational on Saturday Kyle Buehler knew exactly how he wanted the day to end.
He'd pictured himself wrestling Lawrence Free State's Marc Somers in the 140-pound finals and winning convincingly.
Photo Gallery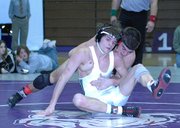 Lansing wrestlers compete at Baldwin
That's exactly what happened. Buehler, ranked second in Kansas Class 5A, jumped to a 6-0 lead before defeating the No. 2-ranked wrestler in Class 6A by a 6-1 score.
For Buehler, the victory gave him a 2-1 edge in the season series with Somers. It also gave Buehler the lead in the career series between the two.
"I think I'm up on him by one or two," Buehler said. "He was my only loss in middle school for both years."
Buehler said Somers brings out the best in him every time they compete, and Buehler said Saturday was no different.
"Wrestling him is a completely different match because he shoots from about five miles out, and I think he's double-jointed in every part of his body. I thought I had him stuck right at the beginning, and then he turned his head around 360 degrees. I don't know how he does some of the stuff he does, but it was a great match and it feels good to beat him."
Buehler made quick work of his first three opponents as well. He defeated Ryan Reeves of Baldwin by 17-0 tech-fall, he pinned Chris Watson of Andover Central in 1:49 and pinned Ryan Warthnow of Abilene in less than a minute.
"The impressive thing about Kyle is the way he dominated all the way through," LHS coach Ron Averill said. "And then he just dominated Somers in the finals like he should have. He wrestled smart, he wrestled clean and he didn't make any mistakes. That's the way you beat those guys, and that's the kind of thing he needs to be focused on for another state championship."
Buehler was named Most Outstanding Wrestler of the tournament, but his day was so dominant that another one of his achievements went almost completely unnoticed. Buehler recorded 10 three-point near-falls on Saturday. That increased his career total to 193 and set a new state record. The previous record of 186 was held by four-time state champion Tristen Deshazer of Wichita West.
"That's something he's had his eye on all year," LHS coach Ron Averill said. "He was hoping to get it last week at Holton, but he was three short. This is just another of many great accomplishments for him."
Not to be overlooked was junior Dennis Wood. He posted a 4-0 record in pool action, including three pins, and then edged Oak Park (Mo.) sophomore Cody Tyler in overtime, 12-10. Tyler is a FILA Cadet National Greco-Roman champion and a 2005 Schoolboy National Champion.
"He was really in a no-lose situation because if you go out there and it doesn't work out, it still has no impact on state," Averill said. "But if you go out there and you beat the kid, it still has no impact on state, but it's really cool."
Two other Lions found their way into the finals before losing. Junior Nick Flynn placed second at 145 pounds and sophomore Grant Hinckley was the runner-up at 160 pounds.
Senior Brad Zink placed fourth at 152 pounds, freshman Cullen Demarest was fifth at 125 pounds, sophomore Wes Appleget was sixth at 130 pounds and sophomore Tyler Strouhal was sixth at 215 pounds.
Lansing placed fourth overall in the team standings with 168 points. Oak Park was first with 357.
"The people we had to prepare for most were Oak Park," Zink said. "They're ranked nationally as a team so it was kind of tough to prepare for them."
Lansing returns to the mat at 5:30 today when it travels to Tonganoxie for a dual with THS and Bonner Springs. The dual is the Lions' final competition before the Kaw Valley League Tournament on Feb. 10 at Mill Valley.
NOTE
Three Lansing wrestlers are included in the Class 5A state rankings. Dennis Wood is ranked second at 103 pounds, Kyle Buehler is ranked second at 140 pounds and Nick Flynn is ranked third at 145 pounds.