Finding 'home' in Lansing
Tony Zell came to northeast Kansas to play football, but he stayed because he'd found home.
Zell, Lansing's wastewater utility director, grew up in a military family that relocated to many places along the East Coast during his childhood, but it wasn't until he came to the Midwest that he found a place he wanted to settle down.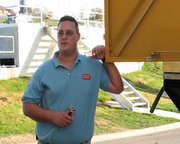 "I guess I was always a Midwestern boy at heart," Zell said. "Once I really got to St. Louis back in '89, I kind of discovered the Midwest was my kind of lifestyle."
Zell came to Lawrence on a full-ride football scholarship to the University of Kansas, but after a weightlifting injury his second year, he had a change of heart.
"I had surgery and decided that my body was too precious to destroy in four years, because I have a whole life ahead of me. I gave up my scholarship and that was it," Zell said.
Zell's injury made him realize that his scholarship came with a high price.
"You know, you look at athletes and I've got a lot of good friends that are banged up pretty bad, you know? Thirty years old and have a hard time walking," Zell said. "I wanted to have all my appendages working the way they were designed.
"It was extremely tough, but, you know, hindsight being 20/20, I still think I made the right decision."
After giving up his scholarship, Zell found a new outlet for his talents when he came to work for the city of Lansing. And though he's not sure what job he'd like to be doing in the future, he's sure of where he'd like to be living.
"I don't intend leaving anytime soon. I really like this area. Kansas City's close and the country's five minutes in the other direction."
Name: Tony Zell
Address: 206 S. Second St.
Occupation: Wastewater utility director
Graduate of: Fort Scott Community College; currently pursuing bachelor of business degree at Baker University.
Family: Tamsin, wife; Liam, 3, son.
How long have you lived in Lansing and what brought you here? "I have lived in Lansing since 1995; my father moved to Lansing."
What do you like most about Lansing? "It's so cliche, but it's that old small town atmosphere. "It's a community that knows its identity, and it's on the verge of doing great things."
What do you do for fun? "I love to hunt and fish, I love to cook - I cook every meal in my house - any of the shooting sports.
What would surprise people about you? "That I got married in England."
What's the best advice you've ever received? "Don't believe anything you hear and only half of what you see."
What organizations or clubs do you belong to? National Wild Turkey Federation, National Rifle Association life member, International Defense Pistol Association