Freshman boys place fifth at 43rd annual home tourney
Hot streak reaches 3 with blowout of De Soto
After a first-round loss in their home tournament where they lacked intensity on defense, the Lansing High boys responded with a vengeance.
LHS regrouped and rolled to a 15-point victory over Piper on Wednesday in the consolation semifinals. Lansing then destroyed De Soto, 62-37, on Saturday in the fifth-place game of the 43rd annual Lansing Freshman Basketball Tournament.
Photo Gallery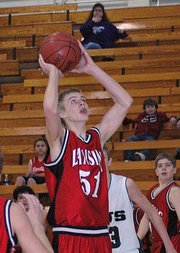 LHS freshmen dominate De Soto
Sandwiched between those two games was a 46-38 victory at Bonner Springs on Friday when LHS outscored BSHS 16-0 in the fourth quarter.
The Lions now are 5-4 overall and riding a three-game winning streak.
Lansing was dynamite all over the court Saturday against De Soto. After falling behind 10-9 during the first six minutes of the first quarter, Brian Beall buried back-to-back three-pointers that gave the Lions a five-point lead. They never trailed again.
A ferocious defensive effort by LHS in the second quarter produced 10 turnovers and led to some easy offense. Kyle Murphy came off the bench to score five points in the second quarter. Ben Kozak scored four points, Richie O'Donnell hit a floater and Beall swished another three-pointer as the Lions extended their lead to 29-19 by halftime.
James Johnson scored four points during a 10-2 run at the start of the third quarter. That extended Lansing's lead to 18 points and put the lead well out of reach.
Beall and Kozak each scored 14 points followed by O'Donnell with 10, Travon Hunt with eight, Murphy with seven, Johnson with four, Clay Pitsenbarger with three and Kurt Weber and Kenneth Ritchie with one apiece.
Other freshman basketball players are Austin Taylor, Tyler Gates and Jacob Davis. They are coached by Bill Pekarek.