Lansing junior to spend six months in Australia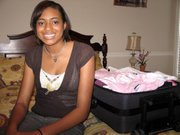 For years, Joni Wiley heard people praising Australia's beauty and warm weather.
"Everyone always rants and raves about Australia and how pretty it is," said Joni, a junior at Lansing High School. "My dad, he's been there before, and he talked about how nice the people are and I was like, 'Man, I have to go see this for myself.'"
On Tuesday, Jan. 30, that dream began to come to fruition as Joni departed her Lansing home for what will culminate in a six-month stay in the Land Down Under. After a one-day stop in Los Angeles for orientation, Joni departed San Francisco on a grueling 14 1/2-hour flight that was scheduled to arrive in Sydney, Australia, at 7:50 a.m. Friday, Feb. 2. That's 2:50 p.m. today, Feb. 1, Lansing time.
"I'm kind of glad we'll have a night flight though, because it will be like we went to sleep that night and we'll just have missed a day," Joni said, referring to the change in time zones and the plane's crossing of the international date line.
Joni, 16, expects life in Australia to be a world different than the life she's lived so far in the United States.
For the next six months, she's giving up her job at Old Navy and a teen's most-prized possession - her car - to live and study in Picton, Australia, a small town of about 3,000 in southeast Australia, 50 miles southwest of Sydney.
"I'm gonna miss my friends and my family, of course, and I won't be able to drive over there : because I'm on a student visa. I'm gonna miss just being able to up and go and the normal stuff we take for granted," she said.
But there's plenty Joni can't wait to experience.
"Believe it or not, I'm looking forward to going to school. I think their school is going to be so different than ours," she said with a smile. "I'm just excited to meet different people and learn a different culture and get out of the comfort zone of America."
As a participant in an American Field Service intercultural exchange, Joni will live with the Yates family, which includes a married couple and their four daughters, ages 17, 15, 11 and 10.
Because she will attend school in Picton until she departs for Lansing in late July, Joni did not return to LHS after winter break.
That's given her plenty of time to get to know her new family members.
They've been using phones, e-mail, webcams and instant messaging to learn more about one another.
"I'm kind of glad it happened this way because I don't get there and you have the awkward 'I-don't-know-you/you-don't-know-me phase.' We're past that," she said.
Two new experiences Joni will encounter on a school day in Australia are riding the city bus and wearing a uniform.
"I'm actually pretty excited to wear a uniform. I've seen some of them and they're actually pretty cute," she said. "I don't want to have to pick out my clothes every day. It's just easier."
Joni said she would likely participate in choir and basketball at Picton because exchange program officials encourage students to take part in extracurricular activities to get to know fellow students.
Although she will be thrown into a new culture and unfamiliar surroundings, Joni said she's not worried; she'll adapt.
Joni's parent's, Melia and Joseph Wiley, both retired from the Army.
"I guess being an Army child it does really help because every year - like on post - new people come and you have to change friends every year. It made me really outgoing," she said.
Joni said the experience also would prepare her for being out on her own after she graduates from LHS in May 2008. She hopes to attend Baker University in Baldwin City, where she wants to major in sociology and minor in psychology. She's interested in social work.
"Of course I'm going to miss my family," Joni said. "It's a one-time experience. Not many people get to do this, so I just wanted to take the opportunity and be able to learn a new culture and get to meet new people."