Prison escapee receives 130 months
Leavenworth — Convicted murderer John Manard was sentenced Friday to 130 months in prison for his escape from the Lansing Correctional Facility in a dog crate.
Manard appeared Friday morning in Leavenworth County District Court before Judge Frederick Stewart.
Manard told Stewart he had no regrets about escaping from the prison in February 2006 and any sentence the court might impose would be "a small sacrifice" for the twelve days he spent on the outside.
Stewart also ordered Manard to pay court fees and more than $7,400 in restitution to the state for transportation and other expenses authorities incurred during the investigation.
Hidden in a dog crate in the back of a van, Manard escaped from the prison Feb. 12 with the help of Toby Young, then director of the Safe Harbor Prison Dogs program.
Young, a regular visitor at the prison since she launched the program there in 2004, drove the Safe Harbor van away with Manard in tow.
Twelve days later, they were captured by authorities in Tennessee.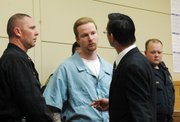 On Jan. 10, Manard pleaded guilty in court to one count of felony escape. A felony charge of trafficking in contraband - a cellular telephone - was dismissed as part of a plea agreement struck between Manard's court-appointed attorney, Terry Lober, and Leavenworth County Attorney Frank Kohl.
Manard already is serving a life sentence for first-degree murder, aggravated robbery and criminal possession of a firearm for the 1996 carjacking and murder of a Johnson County man.
Kohl said the 130-month sentence Manard received Friday was standard under Kansas sentencing guidelines and would be served consecutively, meaning Manard must become eligible for parole and be approved for parole on the murder charge before he can begin serving his sentence for the escape.
Manard still faces federal charges related to the getaway. Federal prosecutors have alleged Young gave two pistols to Manard after the escape.
To read more about the sentencing, check out the Feb. 8 edition of The Current.