Questions swarm at county bee
Leavenworth County has a new spelling bee champ, but the title was bestowed upon her amidst a bit of controversy.
Molly Oberstein-Allen, an eighth-grader at Hyman Brand Hebrew Academy and a resident of Overland Park, won the Leavenworth County Spelling Bee on Friday afternoon by spelling the words "possession" and "precarious."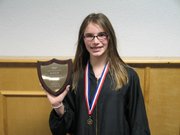 The title earned her a $100 U.S. Savings Bond, a plaque, bragging rights and a trip to the Topeka Capital-Journal State-Wide Spelling Bee on March 24 at Washburn Rural High School, Topeka.
At the conclusion of the contest, audience members mulled about and many were asking how a resident from Johnson County could have won the Leavenworth County bee.
Molly's mother, Donna Oberstein, said her daughter entered the bee after receiving the go-ahead from Priscilla LoPresti, bee chairwoman.
Oberstein said her family - and the school her children attend - observe Shabbat, the Jewish Sabbath, on Saturdays. That prevented Molly from entering the Johnson County Spelling Bee, held in Gardner.
Oberstein said they tried to work with the organizers of the Johnson County bee to make alternate accommodations but were unsuccessful.
"A student representing the school can't participate in an activity that breaks the Sabbath," Oberstein said.
The win put LoPresti in a precarious position. She was swarmed by reporters and parents after the contest.
"I surveyed some of my helpers and I went with the majority," she said. "The majority said, 'Let her come. We are doing it for the kids.'"
"I labored over it, and I knew that I would get some negative response if she won, but I truly feel she is an exceptional candidate for the state bee."
Coming in second was Taylor Reed, a seventh-grader at Patton Junior High School at Fort Leavenworth. Third place went to Samuel Davis, a sixth-grader at MacArthur Elementary, also at Fort Leavenworth.
LoPresti said she would contact officials at the statewide spelling bee to inquire whether Taylor and Samuel also might be allowed to enter the statewide competition, which will be held on a Saturday.
Rachel Koone, a sixth-grader, and Garret Hinckley, an eighth-grader, both from Lansing Middle School, made it to the final round of ten competitors.
To read more about the spelling bee, check out the Feb. 8 edition of The Current.