'

Girly girls' no more
Military training transforms '06
LHS

grads
It was grueling. It was insane. It was hell. It was the best experience ever.
Three 2006 Lansing High School graduates who joined the Air National Guard this past summer found basic training was a challenge that brought on intense transformations.
When Jessie Mitchum, Angel Constantino and Nicole Holland enlisted in the 190th Air Refueling Wing of the Air National Guard, they saw themselves as "girly girls."
But now, six months later, they see something different. They see strong, proud, capable women.
Even for them, the transformation can be hard to believe.
"Every time I look in the mirror, I think, 'I can't believe you went through basic training,'" Constantino said. "I was such a girly girl :"
But basic training wasn't mere survival for the three "girly girls"; it was a crucible that redefined their characters and helped them find their most fundamental identity. It was an intense experience that, despite their vivid memories, the three still struggle to describe.
"Hell - is pretty much how to explain it, those six weeks," Mitchum said. "It was hard, pretty much everything like you see on TV. ... Someone with a huge Smoky the Bear hat on yelling at you."
After the initial shock of the first dozen days, however, each realized they were changing - finding strength, discipline and resolve they had never known they possessed. Mitchum even began to understand the rationale behind the training's strictness.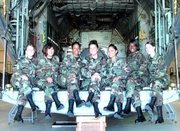 "They reconstruct you from the person you are to the person they need you to be," Mitchum said.
By the end of the training, each could see the difference in herself. Constantino remembers a moment during a field exercise when it became clear for her. She felt a thrill that she had never before known - not in her former life, at least.
"I loved rolling around in dirt and being dirty," Constantino said. "No one at home can ever say they were rolling around in the dirt with M-16s and pitching tents."
When the girls left basic training and began their 12-week traffic management training, they had to determine their own schedules for the first time in more than a month. They realized even the rigid structure of basic training had become a comfortable home.
"It was hard. Me and Angel used to be like, 'I hate it. I want to go back to basic so people can tell me what to do,'" Holland said. "Because you get so used to it. It was hard getting used to being free to do whatever."
But the sense of freedom was quickly replaced with a sense of dread about the amount of information the program required them to digest. And the stakes had never been higher: If they didn't pass their weekly test, they were required to stay an additional week. They couldn't go home until they made the grade.
"Some people think college is hard - and they have no idea," Mitchum said.
But with such a clear incentive, no one had trouble sticking to the books. When the program was finished, each had earned a place as an honor grad. Holland earned first place in her class.
About face
When the training was finally over and the girls boarded the plane that would bring them home, they couldn't wait to get back. Wearing their uniforms, they carried themselves with an air of respect, even though it was hard not to get emotional when the plane landed.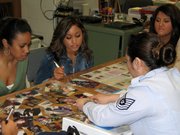 "I ran off the plane just bawling - because we were in Kansas," Constantino said.
Their first few days home, Constantino, Holland and Mitchum saw their surroundings with new eyes, and others saw them in a new light. Not much had changed in Lansing in six months, but each of their lives had changed forever. And "fun" took on a whole new meaning.
"At first it was kind of normal, but we weren't really into doing the same things that we used to do," Holland said. "Now we called each other "the grannies" because we never really did anything anymore. We just liked laying in bed and doing nothing."
Whereas before, partying had been high on the priority list, it no longer held the appeal it once did. And it was something that their friends sometimes had trouble accepting. The girly girls had grown up.
"We're not those people anymore - We have this sense of integrity and responsibility," Mitchum said. "All of your dreams and ambitions have changed."
The three have held on to one plan they shared before enlisting: They're all going to college. Holland is enrolled this semester in pre-business at KU; Mitchum will be attending Kansas City Kansas Community College; and Constantino is considering public relations as a career and will be attending KCKCC.
But their outlook on higher education has changed. What used to be an opportunity to embark on a four-year excursion of partying has become a serious opportunity to learn and achieve. And though they each will pursue a different major, they still hold one opinion in common: If they had to do it all over again, they wouldn't hesitate signing the enlistment papers.
"I always think that the whole world should do it," Constantino said. "It makes everyone a better person."
As members of the Air National Guard, the girls are required to work at Forbes Field one weekend per month plus two weeks per year. Each signed a six-year enlistment contract.