Forensics team relishes early-season success
The Lansing High School forensics team has a new coach and two second-place tournament finishes under its belt already this season.
Co-captain Miranda Nichols, a senior, said the entire team - veterans and novices alike - had contributed to the team's early success.
"We've got a lot of really good talent," said Nichols, a four-year member of the team. "The novice (teammates) are really excited.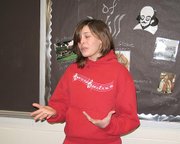 "I think it's really good, too, because they offer us experienced ones some advice. And sometimes fresh advice is the best."
The formula seems to be working.
The team placed second in tournaments on Jan. 27 at Turner High School and on Saturday, Feb. 3, at St. Thomas Aquinas High School. Those are the only tournaments LHS has entered since the season began last month.
Forensics coach and LHS English teacher Melissa Rohrer said the credit belonged to the team, which numbers almost 50 students.
"Forensics is all about the kids because they are the talent. I just kind of sit here and point them in the right direction," Rohrer said.
Rohrer came to LHS in the fall from Leavenworth High School, where she also taught forensics for two years.
"So far, so good. We have a big team," Rohrer said. "The first tournament is always interesting because everyone is a little unprepared : We did very well. If we continue as we've done, we can only improve."
Forensics offers more than trophies and accolades. Rohrer said there were many side benefits to competitive speaking and acting.
"It definitely helps students to improve their speaking habits. They increase tremendously in confidence. They really learn about analyzing literature. They learn how to analyze speeches, to integrate good writing with good delivery skills," she said.
Nichols, the co-captain, agreed that she had received a dose of confidence during her four years on the team.
"I used to be kind of a wallflower when I was younger. I really like speaking now in front of people," she said. "It's helped me interact with people really well."
Team member Megan Wood, a junior, said she was attracted to forensics because she enjoys drama and interacting with her teammates.
"I like to pretend I'm someone I'm not," she said. "Forensics people are just fun and witty."
This season, she's working on perfecting a serious solo acting piece called "Ice Cream for Dinner." It challenges Wood to take on the role of Carolyn, a teenager with a brain tumor.
The team's next tournament appearance is Friday and Saturday, Feb. 9 and 10, at Shawnee Mission East. Tournaments will continue through April, and state competition is scheduled the first weekend in May.