Lansing native gives 'GameDay' assist
When Chris Nelson and his buddies headed to Allen Fieldhouse early Saturday morning, much of the University of Kansas student population likely was just getting home from a night on the town.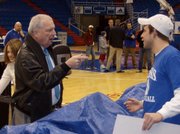 The sacrifice was worth it to Nelson and fellow Lansing High graduates Andrew Phillips, Javen Kelly and Shawn Jung, however. They wanted front-row seats for ESPN's College GameDay program that was to be broadcast live in anticipation of Saturday night's Kansas basketball game against Texas A&M.
"I went home and got my Boy Scout tent and sleeping bag," Nelson said. "We set up our tent at like 1:30 a.m. the night before. We were the only people there until about 4:45 a.m."
Temperatures fell into the single digits over night.
"But it was worth it," Nelson said.
By arriving early, the guys got prime seats for the program, but Nelson received a bigger prize. A handshake and an offer he couldn't refuse from show co-host Digger Phelps.
"I just went up to meet him because I'm a big fan of his," Nelson said. "And he said, 'Hey, I need a captain for all of the cheers. Do you want to be my captain?'"
Nelson obliged, so throughout the day he helped KU cheerleaders fire up the crowd - a crowd that included dozens of other LHS graduates. Some of those graduates garnered face time on TV right behind the College GameDay hosts.
The day of hype ended in a 69-66 loss for the sixth-ranked Jayhawks.