Shared remembrance
Students hang yellow ribbons for loved ones
Geno DeGraw misses his big brother, and yellow ribbons remind him of that every time the sixth-grader walks through the commons area at Lansing Middle School.
Geno's brother, Marine Sgt. Mark DeGraw, is serving his second tour of duty in Iraq.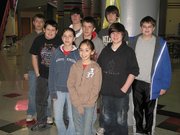 "It sucks because he's not going to be back until April '08," Geno said of his 25-year-old brother. "Every Saturday night he would take me to a different place and then I would just spend the night and my parents would just come and get me every Sunday night."
Yet, Geno said, the yellow ribbons make him feel better.
"It supports our troops over in Iraq and the other countries," he said.
At least nine LMS students have a loved one serving in war zones overseas.
Sheryl Chavez, the school's social worker, said yellow ribbons started going up in January because students and parents wanted to recognize loved ones involved in military operations in war zones.
An indoor area was chosen, Chavez said, because there are few large trees outside LMS. The students hung the ribbons inside the commons area, which also serves as a cafeteria.
"This way the whole student body gets to see it," she said. "It makes them feel good that people here at school are thinking about them."
Chavez brought the students together so they could meet others in the same situation. Together, the group members decided they would display yellow ribbons to recognize their loved ones.
They have written the names of their relatives on the ribbons near the stage and will remove the names after the loved ones return.
Chavez said the teens don't meet regularly as a support group, but she does check in with the students each month.
She said many of the students come from "seasoned" military families.
Eighth-grader Nick Fodness said his father, Lt. Col. Troy Fodness, just returned from his second tour of duty.
"It's easier the second time around. You're used to it," he said.
The plethora of technology available to teens - phones, e-mail, instant messaging and webcams - enables families to stay in touch more regularly than previous wars, Chavez said.
Several students said they speak to their loved ones every day on the phone or on the Internet.
"I think it helps if they can keep the communication going," Chavez said.
Nevertheless, several students said they supported the troops but expressed frustration because their loved ones had made repeat trips to war zones.
"I don't like the war anymore. It's been going on so long and so many people have died," eighth-grader Matthew Bessasparis said.