Beall's late bucket gives pushes
LHS

past Tongie
Tonganoxie — The Lansing High boys had been in this position before.
In the same gym, in fact, and with a nearly identical score.
Photo Gallery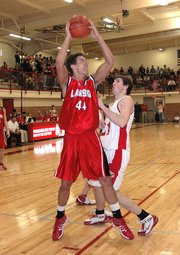 LHS boys take down Tongie
But the opponent was different, and this foe made the game a lot more personal.
Lansing earned a one-point victory against Silver Lake on a last-second three-pointer by sophomore point guard Curtis Beall on Jan. 18 in the Tonganoxie Invitational boys basketball tournament.
Friday night LHS was back in the Tonganoxie High School gymnasium for a showdown with the rival Chieftains, and this one came down to another late bucket by Beall.
Trailing by a point with the clock ticking down, Beall drove to the left and lofted a guarded floater that rattled in with seven seconds left. Tongie had one last chance, but Zeb Kissinger's turnaround three-point try sailed long and Lansing survived with a hard-fought 42-41 victory.
"We kind of were in control of the game the whole game, and then to fall behind there late when we had a lead most of the game was kind of a bad thing," LHS coach Rod Briggs said. "But we showed we had resiliency, and we came back and got the shot to win the game."
The game had the look of a wire-to-wire slugfest from the opening tip. Tongie's Jeff Hughes buried a three-pointer on the first possession of the game, but Lansing answered back with two buckets from Stephen Didde. Two ties and two lead changes later, THS ended the first quarter with a 9-7 lead.
Lansing utilized its size advantage inside to take charge of the game in the second quarter. Forward Jeff Jackson scored two buckets on strong drives to the hole and forwards Cody Rush and Didde knocked down 10-footers. Then Beall swished a three-pointer that capped an 11-4 run and gave LHS an 18-13 lead. Then the teams traded scores for the rest of the quarter and Lansing took a 26-23 lead at halftime.
The Lions opened the third quarter on an 8-3 run and took their largest lead of the game at 34-26. Hughes then scored six unanswered points for the Chieftains. A layup at the buzzer by Bobby Hauver gave the Lions a 36-32 lead.
Jackson drained a jumper early in the fourth quarter and gave Lansing a six-point cushion, but it didn't last long. A layup by Jordan Herron and a three-pointer by Hughes brought Tonganoxie within 38-37. A leaner in the lane by Gabe Belabrajdic put the Chieftains on top by a point with 1:20 left.
After a timeout, Lansing ran some clock and patiently looked for a shot. Clayton Hall fired a bounce pass to Jackson inside for a layup. That gave the Lions a 40-39 lead with 35 seconds left.
Tonganoxie's answer came 11 seconds later when Hughes scored on a backdoor layup.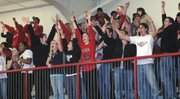 Down a point with just 24 seconds remaining, Briggs used two timeouts to make sure his players understood their strategy. Then the Lions went to work. They melted some more clock and swung the ball to Beall on the left side. He then drove to the basket for the game-winner.
"Tonight shows me just how much we have improved from the beginning of the season," Briggs said.
The victory snapped Lansing's three-game losing streak and upped its record to 6-10. Tonganoxie fell to 10-6.
Jackson paced the Lansing offense. He didn't miss a shot on his way to 14 points.
"I'll put up with some ball-handling errors occasionally to get that seven-for-seven (shooting), because that means he was playing with some confidence," Briggs said of Jackson.
Beall, Didde and Kevin Johnson scored six apiece, Hauver and Rush had four and Hall added two. Hughes led Tonganoxie with 18 points.
LHS next plays at 7:30 p.m. Tuesday at home against Perry-Lecompton.