County reschedules referendum
Leavenworth — Leavenworth County voters will wait an extra 16 months to determine whether a county administrator position is necessary.
The County Commission decided unanimously Monday to suspend a ballot initiative on the administrator's post, originally scheduled for the April 3 general election, until August 2008.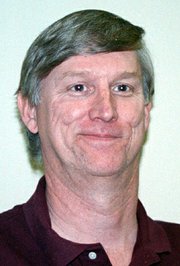 Commission Chairman J.C. Tellefson, who has spearheaded the effort have a public vote on the county administrator initiative, called the initial decision to add the question to the April ballot his "first mistake" in his first month in office.
"I had hoped when I came up with this (ballot initiative) that in February, I'd be knocking on doors and educating the community," Tellefson said Monday. "The mistake was, I didn't see everything coming. We need to be talking about NBAF (the National Bio and Agro-Defense Facility) and County Road 1. If we had a little more time, we could get this done, but we're doing a lot of tremendous things right now."
Commissioners Clyde Graeber and Dean Oroke agreed a vote on the issue in April would be moving along too quickly.
For more on this story, pick up the Feb. 15 edition of The Current.