Chance road trip leads to lost dog
A short road trip to a Super Bowl party has given a Lansing family a lesson in hope.
Lisa Findeisen and her husband, Neal, debated whether they should take their three children to the football bash, held at a friend's home in McLouth on Sunday, Feb. 4.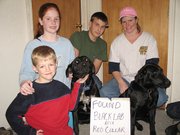 After all, it was a school night.
But the decision proved to pay off, Lisa said, because it reunited the Findeisens with their dog Chubs, who went missing in early December.
Here's how it happened.
As they drove through Jarbalo on the way to the party, they passed a sign that read, "Found black Lab mix red collar."
Family members knew it was a long shot - they were about 10 miles away from home.
But Lisa insisted on using her cellular telephone to call the phone number on the cardboard sign.
Tammy Curran answered and told Lisa the black Labrador retriever had shown up there about two months ago.
Suddenly it wasn't such a long shot. Neal turned the family car around and headed for Tammy's house.
"She opened the door, and there he was. Merry Christmas," Lisa said, referring to Chubs.
The Findeisen children - Logan, 16, Karisa Garber, 10, and Colton, 6 - piled out of the vehicle for a closer look.
"I was really excited because I really didn't think we'd ever see him again," Karisa said.
Chubs evidently felt the same way.
"He knocked me down," Colton said, adding that Chubs, now 8 months old, grew a lot during his time with Tammy and her husband, John Curran.
The Findeisens hadn't seen Chubs since they scolded him for chewing on Christmas lights in their front yard Dec. 3.
But, Lisa said, there was no question about it. This was Chubs.
"We had raised him, because our dog had pups. He was the fattest of all and has a white 'C' on his chest," Lisa said, explaining how Chubs' moniker came about.
The decision to attend the party - and to take the back roads there - came just in time.
Lisa said the Currans told her they were getting ready to take the sign down and deliver Chubs to the Lawrence Humane Society.
Although the Findeisens had been checking in at the Leavenworth Animal Control Shelter regularly, they would have never thought to call the Lawrence shelter, Lisa said.
"It just worked out. We weren't even going to go to the Super Bowl party because it was a school night. And we did. We were going to go (Kansas Highway) 92 instead of the back way. It was just fate," she said.
Thinking Chubs would never return, the family had adopted another black Labrador mix - Midnight - a month ago. Now Chubs has a constant playmate.
Karisa said she wondered if Chubs "might have taken a ride" into the countryside in December, considering the 10-mile trek between the Findeisens' rural Lansing home and the Currans' house.
Nevertheless, Lisa said, Chubs would soon visit the animal clinic, where he will be neutered in an attempt to curb his wandering nature.
Meanwhile, the Findeisens are getting reacquainted with the pooch they never thought they'd see again.
"You raise a puppy and all of a sudden he's gone, and you give up hope," Lisa said. "It's just special."