Karma killers
Lansing wrestlers overcome adversity, win elusive Kaw Valley League title
Shawnee — History tried to repeat itself, but this time the Lansing High wrestling team refused to let it happen.
Once again favored to win a Kaw Valley League championship, Lansing was dealt a devastating blow when defending state champion Kyle Buehler - a three-time individual KVL champ - came down with an illness and was unable to compete. For the past 11 years a string of crazy occurrences ranging from sickness to injury to conflicting time commitments had derailed the Lions' title hopes.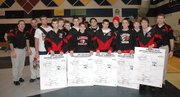 Buehler's sickness looked like proof that the bad karma would continue, but Buehler's teammates had different plans.
Five Lions won individual titles, two placed second and three others finished fourth as Lansing came from behind to claim its first league championship since 1996.
LHS had 176 points, two-time defending champ Santa Fe Trail was second with 165.5 and Mill Valley was third with 154.
"They could either focus on what we didn't have or focus on what we have," LHS coach Ron Averill said. "We knew that we didn't have Buehler, and yet we couldn't focus on that. Everybody had to step up and do their job, and it was a huge day. Everybody really stepped up and did a great job, we had some help from other teams too, and it all just came together."
Although the Lions didn't dwell on Buehler's absence, they certainly didn't forget him. Instead, he was a source of motivation.
"This (league title) is for Buehler. Buehler deserved this," said senior Scott Keller, one of Lansing's individual champs. "Buehler wanted this as a team more than anything and he couldn't be here, so everyone stepped up today."
Junior Dennis Wood won the 103-pound title, Keller won at 119, junior Nick Flynn took first at 145, senior Kyle Grape won at 152 and sophomore Grant Hinckley placed first at 160. Sophomore Wes Appleget placed second at 135 and junior Brad Terron was the runner-up at 215.
Trail was ahead of Lansing by 1 1/2 points prior to finals, but LHS took the lead when Wood defeated Piper's Derrick Weller. Weller previously was undefeated and ranked No. 4 in the state in Class 4A.
LHS added to its lead when junior Scott Keller manhandled Perry-Lecompton's Colton Miller in the finals with a 20-3 tech fall.
"Scott Keller was on fire today," Averill said. "He would not have been satisfied without a gold medal today. He just had those expectations and that strong belief that that's where he should be. There was no doubt in his mind."
Trail eventually regained the lead, but consecutive victories by Flynn, Grape and Hinckley - all by pin - put Lansing ahead for good. Hinckley's pin took just 12 seconds, making it the second-fastest pin of the tournament.
"I was ready," Hinckley said of the quick strike. "I wanted first place."
The individual champions garnered most of the attention Saturday, but some of Lansing's biggest points came on the consolation side of the bracket from fourth-place finishers Cullen Demarest (125), Brad Zink (171) and Tyler Strouhal (215) and from non-placers Jacob Hansen (130) and Sean Gowdy (189). All of them won at least one match and picked up critical points for the Lions along the way.
Zink's contributions may have been the greatest of the day. The senior had wrestled at 152 all season while Grape was out with a torn anterior cruciate ligament. With Grape back in the lineup, Zink jumped two weight classes to fill a gap in the Lions' roster. He won two matches and accounted for nine points.
"You have a lot of guys out there that if they have to go up a weight class or two they're scared to death, but Brad's just excited about the opportunity," Averill said. "When you have that mindset that you're excited about opportunities, there's no stopping you."