LHS

musician lands on state's list of top brass
A Lansing High School student's musical talents have earned him a seat among the top brass in the state.
Trombonist Edwin Fluevog won a spot on the Kansas Music Educators Association's State Festival Orchestra during auditions in January at Salina Central High School.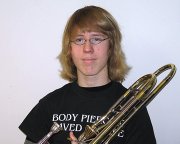 "I was surprised," said Fluevog, a junior. "I thought I would just make band, but I made third-chair orchestra."
That equates, he said, to placing fifth among class 5A and 6A high school trombonists in Kansas.
"It's quite an honor. There's actually a lot of good trombonists ahead of me," Fluevog said.
Fluevog will travel next week to Wichita to practice with his new bandmates. The orchestra will perform a concert at 3 p.m., Saturday, Feb. 24, at the Century II Convention Center.
Fluevog and drummer Adam New, a senior, became eligible to try out for the state honor after they were named to the Northeast Kansas District Honor Band in the fall.
This was Fluevog's fourth year in a row to land a spot on the district honor band. He took up the trombone as a sixth-grader.