Walker Edwards doesn't know what he wants to do with the rest of his life, but a trip to the Kansas Statehouse may have sparked an interest in pursuing a political career.
In lieu of attending classes Jan. 31 at Lansing Middle School, the eighth-grader traveled to Topeka, where he received a firsthand education in lawmaking.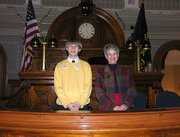 "I got to see how the legislative process works, how it all meshes together to make our state run," he said. "It's pretty cool."
Walker spent the day shadowing State Rep. Marti Crow, a Leavenworth Democrat, during the state's first Gifted and Talented Day, sponsored by the Kansas Association for the Gifted, Talented and Creative.
Walker, a member of IDEA - the gifted program at LMS - learned about the opportunity from Kathy Ray, IDEA facilitator.
"I attended committee meetings. I actually saw a House meeting, which was really awesome," he said.
He also attended a luncheon and witnessed ceremonial events, including a presentation about Wichita State University.
Walker said committee hearings were his favorite part of the day. He listened to debates about No Child Left Behind and establishing English as the official state language.
Part of the day's purpose was to encourage legislators to maintain support for gifted education programs.
Walker said he realized life in the Statehouse has similarities to teenagers' social lives.
"It was interesting to see the friendships between all the legislative people, even though they were on completely different sides," he said. "You'd see them arguing over one thing and then saying 'hi' or sharing a coffee the next (moment)."
Walker said his favorite subjects are IDEA, science and math. For now he's keeping his career options open.
Walker is the son of Bob and Julie Edwards, of Lansing.