Surprise package chips at market share
When Stacy Cook received a package via Federal Express, the Lansing resident didn't think much of it.
Just a gift that arrived early for her birthday, Monday, Feb. 5, she thought.
But when Cook examined the black box Friday, Feb. 2, she was befuddled. There was no birthday card. Instead, across the top there was a note that read, "To Stacy, From Stacy." Inside the box were five bags of pita chip snacks.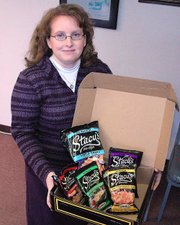 Cook had no idea who this other Stacy was, and she didn't know where this package came from.
"Honestly, I thought it was a gag on me," she said. "It seemed like something my dad would do because he's kind of nutty that way, but he said he didn't know anything about it. He just started laughing and said, 'Are you serious?'"
Cook was concerned about where the package originated. Her two daughters wanted to eat the chips, she said, but she wouldn't let them without collecting more information first.
It turns out this was no joke. Instead it was a savvy marketing plan, and Cook was a lucky but unsuspecting benefactor.
Stacy's Pita Chip Co., a 10-year-old company based in Randolph, Mass., sent the chips to 133,000 people across the country whose first or last name was "Stacy" as part of a drive to give the company national exposure.
Stacy's sent the packages out early last week so they would arrive on Thursday or Friday, just in time for the Super Bowl on Sunday, Feb. 4.
Steve Sears, vice president of marketing for the company, said Stacy's worked with a direct-mail company to compile a list of every "Stacy" in America that was spelled the same way.
Hilary Allard, a media representative for the company, said 595 Stacy's in the Kansas City area should have received packages.
Sears said the total cost of the campaign was "north of $1 million," but he said it was more cost-effective than a television advertisement and created a more personal touch. In comparison, television ads during the Super Bowl cost $2.6 million for a 30-second slot.
Plus, Sears said, people might talk about the chips at a Super Bowl party. That would equate to more word-of-mouth publicity.
"It's done exactly what we wanted to do, which is create buzz," he said.
Sears said the company has received about 2,000 calls and e-mails in response to the product. Three-quarters of the responses were thank-yous and compliments, Sears said. The other 25 percent were concerned consumers.
"We got a lot of calls and e-mails asking for clarification," he said. "And especially when it comes to food products, I can't blame people for calling to at least find out what this is all about."
With the mystery solved, one question remained. Would Cook finally let her daughters eat the chips?
"Yeah," Cook said with a smile. "I probably will now."