Lang leads Lansing girls past Perry
LHS

boys fall in overtime
For the first 16 minutes Thursday night the Lansing High girls looked like a team that had missed back-to-back days of practice because of snow.
Fortunately for Lansing, the real Lions returned to the court in the second half and took care of business for a 61-40 victory over the Perry-Lecompton Kaws at Johnsmeyer Gymnasium.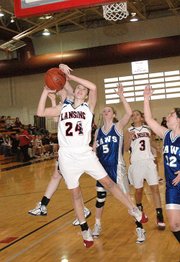 Lansing's offense sizzled because it had its most balanced effort of the season. Sophomore Brittney Lang scored a career-high 20 points - 15 of them in the second half, junior Morgan Chiles had 12, freshman Amy Briggs scored 11, junior Christine Cordes had nine, junior Katie Nietzke had six and junior Amanda Darrow added three.
LHS had its second-best offensive performance of the season, but most of that came during the second half. The Lions were frigid during the first 16 minutes and showed signs of rust from the snow days that closed school. They mustered just one basket during the first five minutes while digging an 8-2 hole.
"We were settling for the three still at that point and not being real aggressive," LHS coach Keith Andrews said.
They eventually climbed back into the game when the guards began attacking the basket and Cordes got touches inside. She didn't get the ball much, but she was fouled every time. Two Perry players collected two early fouls. That rattled the Kaws' rhythm and helped the Lions rally.
"She did a good job drawing attention," Andrews said of Cordes' presence.
Lansing trailed just 10-8 after the first quarter. A turnaround jumper by Cordes early in the second tied the game, and a layup by Lang gave LHS the lead. Perry refused to go away, however, and it trailed 22-21 at the break.
Although the Lions were ahead, Andrews said the overall effort wasn't where it needed to be.
"We challenged some people a little bit," he said. "And people responded."
Boy did they ever.
After mustering just 22 points on just 21.8-percent shooting (seven-for-32), the Lions exploded for 39 points in the second half.
Perry scored the first four points of the third quarter and took a 25-22 lead, but the Lions held the Kaws without a field goal attempt during the next 4 1/2 minutes and forced 11 turnovers during that span. The Lions also went on a 12-0 run and took charge of the game. Lang scored four points during that run and then swished a three-pointer late in the quarter to give her team a double-digit lead.
Most of Lang's shots came from within the offense. Andrews credited Cordes' effectiveness in the post with helping create open looks for Lang.
"Once Christine hits a couple inside shots and gets fouled, then (the ball) goes inside and it comes out and (the defense) has got to suck back in a little bit, and then your outside game's wide open," he said.
Lang continued to have the hot hand in the fourth quarter. She scored eight more points in the final period and Chiles added six as the Lions put the lead out of reach.
"That first half, I don't know what that was," Andrews said. "But the second half was a team effort and everybody played pretty well."
Lang had struggled to find her shot in recent games, and Andrews said her slump-busting performance came right when the Lions needed it. He said he wasn't surprised by it, however, because of Lang's commitment to improvement.
"She's stays late every night and shoots," he said. "They do two or three shooting games and she probably gets anywhere from 150 to 200 shots after practice in 15 minutes of work, and she shoots the ball well."
She did other things well Thursday night, too. She had six rebounds, five steals and four blocked shots. Cordes also had a good stat line. In addition to her nine points, she also had team high's with 12 rebounds and seven steals.
Lansing next plays at 6 p.m. today at home against Mill Valley.
PERRY 50, LANSING BOYS 49, OT
Curtis Beall's driving layup in the final seconds of overtime wouldn't fall, and the Lansing boys lost to Perry, 50-49, on Thursday night at Johnsmeyer Gymnasium.
Of course, Beall's shot never should have been necessary. Lansing led by nine points entering the fourth quarter before letting its lead trickle away. The Lions scored just five points during the final eight minutes - all at the free throw line. Meanwhile, the Kaws attacked the basket and capitalized on errant fouls. They tied the game at 40-all with 23 seconds left and ultimately forced overtime before pulling off the victory.
LHS coach Rod Briggs said he was disappointed that his team was unable to protect its lead.
Photo Gallery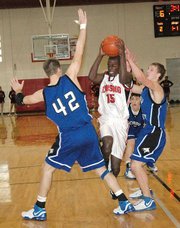 LHS boys fall to Perry-Lecompton in overtime
"That's what's disappointing to me is that we should've probably won by 10 or 15 points tonight on our home court, and when we had our chance to put them away we just decided that we were going to go away from what we're supposed to do," he said.
The game had the makings of a wire-to-wire thriller early. The teams traded baskets throughout the first quarter. Despite four points by Bobby Hauver and four from Stephen Didde, LHS trailed 12-10.
Lansing (6-11) picked up its defensive intensity in the second quarter and limited Perry to just three points. Didde scored five more points in the quarter and Curtis Beall buried a three-pointer during a 9-3 run that gave the Lions a 21-15 lead at intermissions.
Perry (12-6) scored the first basket of the third quarter, but Lansing then got back-to-back buckets by Didde and Cody Rush and a three-pointer from Clayton Hall. That put LHS ahead 28-19 midway through the quarter. The Lions led by that margin two other times in the quarter, including at the end of it. They were unable to maintain that advantage, though, because they had too many defensive lapses and mental mistakes.
"We can't point fingers, because we had enough people do some things that weren't real smart to help us lose this game tonight," Briggs said.
Sophomore Andy Bowman led Perry with 13 points, sophomore Joel Gantz had 12 and sophomore Kyle Morgison had 10. Didde led Lansing with 12, Rush and Hauver had 11 apiece and Hall had nine.
Lansing next plays at 7:30 p.m. today at home against Mill Valley.