Topeka — Nine Lansing High wrestlers are going to state.
Three Lions - junior 103-pounder Dennis Wood, senior 140-pounder Kyle Buehler and junior 145-pounder Nick Flynn - won individual titles. Senior 152-pounder Kyle Grape, sophomore 160-pounder Grant Hinckley and junior 215-pounder Brad Terron were regional runners-up.
Photo Gallery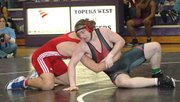 Regional Wrestling 2007
In addition, freshman Cullen Demarest placed third at 125 pounds, senior Scott Keller was fourth at 119 pounds and sophomore Wes Appleget finished fourth at 130 pounds.
"We came into the tournament basically wanting to get guys to state, and we did that," LHS coach Ron Averill said.
LHS placed second at the Class 5A Regional Tournament on Saturday at Topeka West with 146.5 points. Shawnee Heights won the team title with 204 points, Topeka Seaman was third with 130 and Highland Park placed fourth with 101.
Heights qualified a full 14 wrestlers for state, Seaman joined LHS with nine qualifiers and Highland Park is sending eight.
With regionals completed, the Lions have a late night ahead of them while they wait for the brackets to be announced for next weekend's state tournament.
"The brackets come out at midnight tonight (Saturday)," Averill said. "So I bet we'll have guys online at midnight."
For a full recap of the regional tournament and a look at the Feb. 23-24 state tournament, pick up the Feb. 22 edition of The Current and stay tuned to lansingcurrent.com.