Ward 2 candidates await primary
For just the first time in six years, voters in a Lansing City Council ward will go to the polls next week to cast ballots in a primary election.
Ward 2 incumbent Andi Pawlowski is making a re-election bid but faces opposition from David Anaya, an engineer who is chief of design in the Directorate of Installation Support at Fort Leavenworth, and Mike Howell, a retired Army veteran and commander of the Lansing Veterans of Foreign Wars post.
The Ward 2 polling place - Lansing Community Center in the basement of City Hall, 800 First Terrace - will be open from 7 a.m. to 7 p.m. Tuesday, Feb. 27. Voters will be asked to select a single candidate, and the top two vote-getters will square off against each other in the April 3 general election. The winner will get a four-year term on the council.
Campaigning thus far has been fairly subdued, the candidates said.
Pawlowski, who has been on the council since 2002, said she has placed a few yards signs out and made calls on many of her supporters to urge them to turn out and vote in Tuesday's primary.
Anaya said he was printing up fliers reminding people of the importance of voting in the primary.
Howell said he had placed some yard signs and had telephoned potential voters to urge their support.
"I'm doing as much as I can with this weather, but it's so cold," he said last week.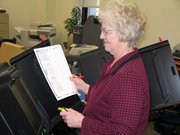 Asked to differentiate themselves from their opponents, here's what the candidates said:
¢ Anaya said his overall experience should help him stand apart. "The difference that I can bring to the table is my engineering background, my management experience, and I've lived in the community for 57 years, so I think I have a handle on what people want and what they expect from someone who represents them," he said.
¢ Howell said he and Pawlowski shared similar views on a lot of issues - they both are big supporters of Lansing Community Park, for example. But Howell said he's grown weary of the council starting but seemingly not finishing projects. "It's like we don't want to take the final step. I want to see the park done. But not in 10 years or five years. : I want to see Towne Center developed as originally called for," he said.
¢ Pawlowski pointed to her experience, community involvement and being accessible to constituents. In addition to her duties on the council, she also is a Realtor, a member of the Lansing Intermediate School Site Council and is involved in other endeavors, including as a co-leader of a Girl Scout troop. "I was elected four years ago after being appointed six months earlier, so I have the benefit of knowing what a council member does," Pawlowski said. "Four years and five months ago, I discovered that what I want doesn't matter. It is what the other 2000-plus people living in my ward want, because they elected me to represent them."