On the go, round the clock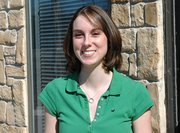 Rebecca Givens crams as much as possible into her busy schedule, but a good night's rest is often not one of those.
"Time is an issue, especially for work when I have to wake up at 4:30," said Givens, a Lansing 19-year-old who balances two jobs, college, nursing school applications, and-whenever possible - a vibrant social life.
Givens works early mornings as a care assistant at Children's Mercy Hospital in Kansas City, Mo., before going to classes at Kansas City Kansas Community College, where she has posted a 4.0 grade-point average in just over three semesters.
Her current plans include nursing school at either the University of Kansas or Baker University, and she eventually would like to work in a hospital's emergency department.
"I really like working with kids," Givens said. "But I also like the fast pace, exciting aspect of (the emergency department)."
It's quickly apparent that Givens likes to stay on the go.
In addition to her job at Children's Mercy, she's been selling products for Avon independently for three years.
"The good thing about Avon is I can do it on my own schedule," Givens said. "I can spend as much or as little time on it as I want to."
Lansing residents might find Givens selling them beauty products or caring for them in the ER in the near future but - most likely - not in her free time. There isn't much of it.
Name: Rebecca Givens
Address: 229 Carriage Crossing
Occupation: Care assistant in children's cancer unit at Children's Mercy Hospital and representative for Avon
Graduate of: Lansing High School (2005); currently pursuing associate's degree at KCKCC
Family: Jeff and Micki, parents; Jeff, 22, brother
How long have you lived in Lansing, and what brought you here? "Going on 11 years. The military. My Dad is retired from the Army."
What do you like best about Lansing? "I like it because it has a small town feeling, but it's close enough to Kansas City, so you can find entertainment."
What do you do for fun? "I like shopping, hanging out with my boyfriend when he's in town and with other friends."
What would surprise people about you? "I like outdoorsy stuff, like going camping and other physical stuff, like working out."
What's the best advice you've ever received? "Live each day to the fullest."
What organizations or clubs do you belong to? Phi Theta Kappa (honor society at KCKCC), Girl Scouts of the USA for 14 years