Lions eye state titles
Four in the finals is realistic goal, coach says
Topeka — After back-to-back record-setting seasons, the Lansing High wrestling team returns to the Class 5A State Tournament with hopes of making more history.
Nine Lions will compete Friday and Saturday at the Kansas Coliseum in Wichita, and they will try to improve on last year's fifth-place team finish. That's Lansing's best finish ever at a state tournament, topping the sixth-place showing it made in 2005.
Lansing also has had a record five state medalists and one state champion during each of the past two seasons. LHS also had three wrestlers compete in the state finals for the first time in program history.
Photo Gallery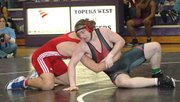 Regional Wrestling 2007
Although the nine qualifiers is fewer than the number Lansing had during 2005 and 2006, it's among the most talented groups the school has ever sent to state. That much was evident by the Lions' performance Saturday at the regional tournament at Topeka West. Shawnee Heights won the regional title with 204 points, LHS was second with 146.5 and Topeka Seaman was third with 130. Lansing and Seaman both had three individual champions.
"Next week is a brand new week," LHS coach Ron Averill said. "And looking at the brackets and looking at the experience, there's really no reason why we shouldn't expect to have four guys in the finals and others who could place."
The four best bets to reach the finals are junior 103-pounder Dennis Wood, senior 140-pounder Kyle Buehler, junior 145-pounder Nick Flynn and senior 152-pounder Kyle Grape. Wood, Buehler and Flynn were regional champions and Grape was a runner-up.
Other hopefuls to medal are senior 119-pounder Scott Keller, freshman 125-pounder Cullen Demarest, sophomore 130-pounder Wes Appleget, sophomore 160-pounder Grant Hinckley and junior 215-pounder Brad Terron. Terron and Hinckley were regional runners-up, Demarest placed third, and Keller and Appleget both finished fourth.
Lansing hasn't appeared in the state rankings as a team this season, but a strong showing this weekend could change that in the final poll. The Lions certainly expect it to.
"I think we've been underestimated," said Wood, who is ranked No. 2 in the state in his weight class. "Whenever we get up, we're a powerhouse. Other people haven't seen that yet, but hopefully (at state) we'll be on our 'A' game."
Buehler agreed.
"We've got a lot of talent, and we've got four guys who could possibly be in the state finals," the defending state champion said. "That's a lot of points right there. And the other guys, they're all strong. I don't see any of the guys that came through the backside going two-and-out. They've all been working hard and they're ready for state."
Buehler isn't the only Lion on this year's state team who has been a state champion. Grape won a title in 2005 and was a runner-up last year. He missed most of this season with a torn anterior cruciate ligament, but has returned and compiled a 6-1 record.
If Lansing's favorites reach the finals and a few others find their way into the medal rounds, a state trophy isn't out of the question. After all, five medalists landed LHS a fifth-place finish a year ago.
"A couple of years ago Bishop Carroll won the state tournament with five guys," Flynn pointed out. "So being in the top five isn't out of our reach. I think as a team we could be in the top three."
Top three would equal a state trophy. That would be another first for the wrestling program.
STATE NOTES
- If Buehler wins the state championship, he would become the first back-to-back champ in Lansing history. He also would become the first multi-time state champ.
- If Grape wins the state championship, he could become the first multi-time state champ in Lansing history. He also is on a quest to become a four-time state medalist. He placed fourth as a freshman, first as a sophomore and second as a junior.
- Flynn is in search of his second state medal. He placed sixth as a freshman. He also qualified for state as a sophomore but did not medal.
- Wood, Keller and Hinckley all are two-time state qualifiers in search of their first state medal. Hinckley went to state last year when he attended Manhattan High School.